Over the last decade, the use of solar trackers in grid-scale photovoltaic (PV) systems has grown dramatically.
Unlike fixed-tilt PV systems, which consist of rows of panels fastened to stationary mounts that remain static throughout the day, solar trackers are mechanical devices that orient panels toward the sun as it moves across the sky. This reduces the angle of incidence between incoming sunlight and the panel, and maximizes the amount of energy produced from a fixed amount of installed generating capacity.
Although exact figures vary depending on location and local weather conditions, the use of solar tracking technology can improve production at PV farms by anywhere from 15-30% when compared to a fixed-tilt system.
There are a number of different types of tracking systems available on the market today including single-axis, dual-axis, horizontal, and vertical. We will focus on the most widely used technology for large distributed generation facilities: horizontal, single-axis trackers (HSATs). We will also discuss the growing use of independent-row, self-powered trackers, which have gained traction in recent years due to advantages they provide over other designs.
HSAT Operation
HSATs are single-axis trackers and thus possess one degree of freedom, which acts as its axis of rotation. While the axis can be oriented in any direction, it's typically positioned parallel to a North-South line.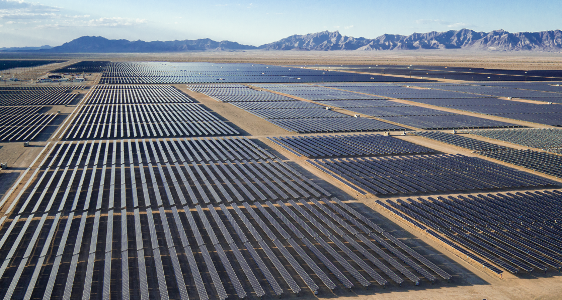 The use of solar trackers for grid-scale PV systems has grown dramatically over the past decade. Credit: NEXTrackerAs its name indicates, the axis of rotation for a HSAT is horizontal with respect to the ground. Panels on these trackers are often fixed to a cylindrical tube supported by bearings mounted on racking structures, with rails to fit different module manufacturers. As the sun moves across the sky, the tube rotates or sweeps to tilt the attached panels so they are in position to receive direct sunlight, regardless of the time of day.
HSATs are the most widely used tracker design for grid-scale solar facilities. Generally speaking, they are simpler to install than other tracking systems and allow for increased flexibility when laying out a site. The combination of increased solar output and low installation complexity makes them highly economical, particularly for large-scale deployments.
HSATs are most efficient during summer months when the path of the sun is highest in the sky. They also exhibit high-performance during peak demand times, generally late afternoon, which is particularly beneficial to large photovoltaic facilities supplying power to the grid.
Furthermore, because the panels are horizontal, they can be compactly installed without having to worry about self-shading, allowing for optimal usage of land.
Self-Powered, Independent-row Trackers
The majority of HSAT designs feature linked (dependent) rows controlled by large motors, which are powered either by the grid or the solar array itself. While this type of system has proved to be an effective solution for improving production at grid-scale PV facilities, it does have limitations.
But, self-powered, independent-row tracking (SPT) systems possess features that enable them to overcome many of the limitations found with traditional linked-row designs. Rather than using electricity from the grid or the generation facility, SPT systems are factory-equipped with integrated solar generators, wiring and batteries to power tracker electronics and motors. This eliminates the cost and time required to install and maintain power wiring.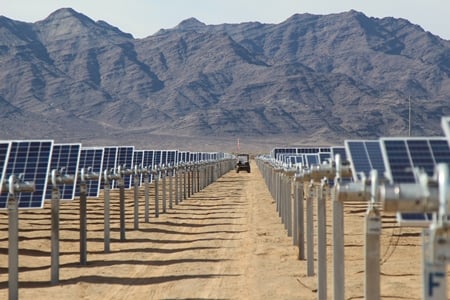 Independent-row, self-powered trackers leave rows largely unimpeded for maintenance. Credit: NEXTrackerIn recent years, the use of SPT systems for grid-scale PV projects has grown dramatically. To see this, one has to look no further than the California-based company NEXTracker, the developer of one of the solar industry's first self-powered tracking systems. NEXTracker was founded in 2013 and in three years has installed over 5 GW of capacity across five continents. Its flagship product, the NX Horizon, was used at the Moree Solar Farm in New South Wales (70MW) and is one of the largest tracking systems in Australia.
SPT Advantages
SPTs offer a number of advantages over conventional linked-row trackers, leading multiple manufacturers to adapt the design. Advantages include:
Increased Resiliency – Because each row is controlled by an individual motor, SPT systems exhibit excellent resiliency because they are less susceptible to widespread malfunction. This is in contrast to linked-row designs, where failure of the large motor controlling the trackers has the potential to bring down a large part of the array.
Enhanced Operational Visibility –By monitoring parameters such as motor current, operators can gain visibility into how each tracker is performing. This allows for the implementation of preventative maintenance programs and facilitates increased uptime over the life of the facility.
In conventional linked-row tracking systems, visibility into tracker performance is not as fine. As a result, identifying the cause and location of an issue with a linked-row tracking system can be more difficult than with an SPT.
Easier Site Maintenance – In order for a solar tracker to have a positive ROI, any additional costs to maintain the system have to be outweighed by increases in energy production. Routine cleaning of panels is an activity that is essential to achieving maximum energy production, and with linked-row systems, motors and drive electronics are typically located in between rows, which increases both the cost and complexity of cleaning activities.
Most SPT systems, on the other hand, use a small, integrated solar generator, thereby eliminating the need to tie-in to an electrical network or provide ground protection throughout the facility. This leaves rows unimpeded, making panel cleaning, vegetation management and other maintenance activities less costly.
Ideal for Remote Locations Lacking Grid Access– Although many solar systems are connected to the grid, some are not and instead only provide power to meet local needs. This is particularly true in remote locations and undeveloped countries.
In these situations, SPT systems are advantageous because they draw power from their own solar generators or from the array itself, rather than from an external power source. NEXTracker's tracking system, for instance, requires only about 30 watts to operate and is powered by a small, dedicated solar panel—eliminating the need for AC wiring in the field.
The Road Ahead
According to a recent report from GTM Research, 12.6 GW of PV trackers will be installed globally this year, up from 5 GW in 2015.
Currently, about two-thirds of grid-scale systems in the U.S. utilize some type of tracking system.
These tracking systems, coupled with other improvements such as advancements in wafer technology to produce better PV cells, have played an important role in reducing the installed cost of PV over the past decade. This will continue to be the case as the use of solar for renewable energy generation increases in the coming years.