Irradiation System Kills Invasive Species in Ballast Water
John Simpson | December 12, 2016
The United States Coast Guard has issued a type approval certificate to Norwegian manufacturer Optimarin for its ballast water management system—the first such system that meets U.S. standards.
Ballast water is routinely pumped into tanks and cargo holds of ships to stabilize them at sea and maintain safe operating conditions throughout their voyage. The practice reduces stress on the hull, provides transverse stability, improves propulsion and maneuverability and compensates for weight changes among varying cargo load levels and due to fuel and water consumption.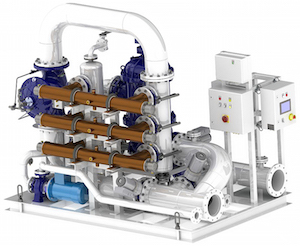 Optimarin's modulized ballast system is capable of being installed onboard existing ships as well as newbuilds. Image credit: Optimarin.However, such water can pose serious ecological, economic and health problems due to the marine species it carries, including bacteria, microbes, small invertebrates, eggs, cysts and larvae. The transferred species may survive to establish a reproductive population in the host environment, becoming invasive, out-competing native species and multiplying into pest proportions.
Optimarin's system is based on filtration as pre-treatment and uses high doses of ultraviolet irradiation to inactivate marine organisms, viruses and bacteria without affecting the normal operation of the ship. According to the company, it is one of the few treatment options that does not use or generate chemicals or biocides. The modulized system is capable of being installed onboard existing ships as well as newbuilds, accommodates diverse ballast water capacities and can handle flows up to 3,000 m³/h.
"While this is a significant milestone, it is the first of multiple system approvals that are needed to mitigate the threat of harmful aquatic invasive species," says Rear Admiral Paul Thomas, assistant commandant for prevention policy. "One size does not fit all, so we will continue to evaluate other systems submitted by multiple manufactures with the intent to provide options that meet shipping's varying needs."
The International Maritime Organization's Ballast Water Management Convention is scheduled to take effect in September 2017, requiring all ships in international trade to remove, render harmless or avoid the uptake or discharge of aquatic organisms and pathogens within ballast water and sediments.