Sponsored content
Time is money. Whether the job involves shaping an airfoil or merely removing a weld, machine shops can't afford to use slow-grinding, fast-wearing belts and discs that lower productivity.
With this in mind, Norton | Saint-Gobain Abrasives is introducing the new Norton Red Heat R983 line of belts, flap discs, and quick-change discs. Norton Red Heat is suited to grinding and polishing of Inconel, stainless steel, carbon steel, titanium, and other metals. Whether the end-use application is in aerospace, foundry, welding, transportation, medical or MRO, Norton Red Heat has the right tools for the job.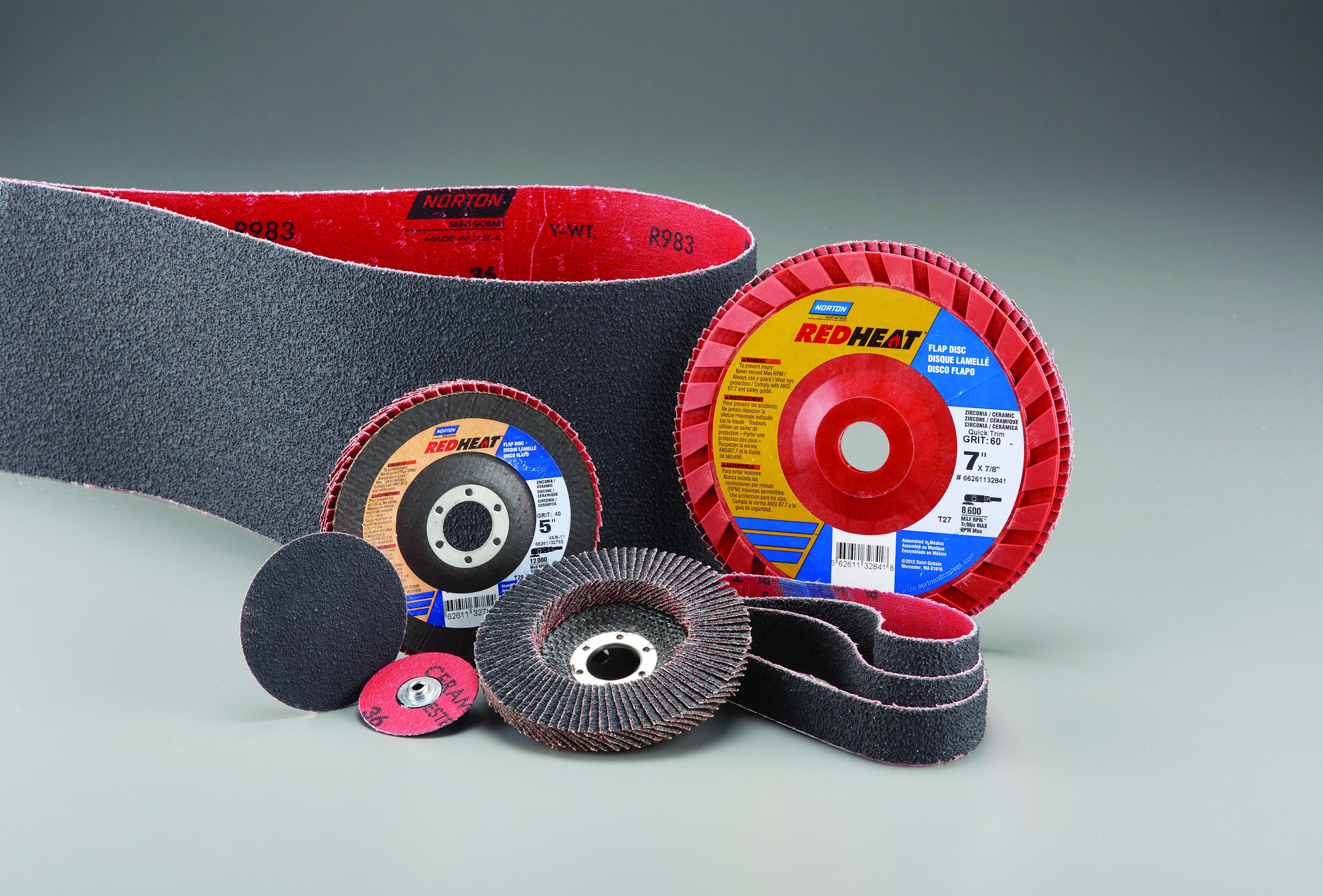 All Norton Red Heat products feature a high-performance ceramic grain formulation that ensures sharp, quick, and efficient cutting.
All performance-inhibiting dies and higher formaldehydes have been removed from the ultra-durable, distinctive, black-colored resin bond to create a safe, fast-acting, longer-lasting product with ultra-low formaldehyde.
This stronger bond enables higher throughput, a cooler cut and less operator fatigue. Finally, an all-new fire-red engineered cloth backing boasts greater surface area, giving the grain more attachment points to adhere to—which means less grain shed and longer belt and disc life. Norton Red Heat belts and discs are extremely resistant to splitting, ripping or stretching—and they will show less edge wear.
Norton Red Heat belts are available in a wide range of configurations—file, portable, benchstand, backstand, and wide—as well as lengths (11" to 700"), standard widths (1/8" to 52") and grit sizes (P36 to P120) to meet the requirements of the job at hand. These belts are suited to Inconel, stainless steel and carbon steel applications in which the efficient removal of larger amounts of metal is required. Heavy stock removal, blending, dimensioning and shaping, grinding, deburring, and polishing are all made easier and more efficient thanks to Norton Red Heat belts' fast cutting, improved grain adhesion and long belt life. All Norton Red Heat belts are custom made to customers' exact requirements with stock options coming soon.
Norton Red Heat flap discs provide versatile grinding and finishing capability for a host of carbon steel and stainless applications that involve the removal of smaller amounts of metal. Three shapes are available in the new product line to meet a range of applications:
Type 29 conical, with angled abrasive flaps and a fiberglass backing plate, is the preferred choice for aggressive stock removal; it may be used on both contoured and edge work, and its angle provides greater surface contact for stock removal on flat surfaces.
Type 27 flat, with plastic backing, is recommended for blending and smooth finishing at flatter angles.
Type 29 high density, with fiberglass backing, has more, longer abrasive flaps for longer life and is suitable for working on uneven or curved surfaces, as well as finer grit blending.
Norton Red Heat quick-change discs are the solution for grinding, deburring, and blending operations in smaller areas requiring the greater conformability afforded by their flexible but sturdy engineered cloth backing. Their tool-free, twist-on-and-off fastening systems make quick work of disc changes to minimize downtime and maximize productivity. Commonly used on right angle or in-line grinders, Norton Red Heat quick-change discs find applications on propane tanks, car and truck bodies, and pressure vessels, among other products.
Norton engineers have put the Red Heat product line through extensive testing to compare its performance against those of our leading competitors. In both robotic and off-hand applications—and across diverse metals and grit sizes—Norton Red Heat discs and belts consistently deliver superior metal removal rates versus the competition.
In a robotic test, operating in traverse mode with 5.9 MRR', Norton Red Heat 2" x 72" belts with 36 grit were put through the paces against comparable products from our competitors to measure their performance in grinding carbon steel, stainless steel, and Inconel. Norton Red Heat belts' cumulative metal removal more than doubled that of both competing belts in separate tests on carbon steel and stainless steel, while equaling or bettering performance against the competitor belts tested on Inconel (see chart below). In a production shop, that translates into less time spent shaping a workpiece, reduced operator fatigue and higher throughputs and productivity.

Separate tests carried out pitting Norton Red Heat belts against competitors' products in a variety of offhand and robotic applications—using belts with varying widths, lengths, and grit sizes to grind carbon steel, stainless steel, and titanium—showed similarly impressive performance. The Norton Red Heat belts easily eclipsed the competition in performance as measured by metal removal rates (see table below).

Norton Red Heat provides faster, easier cutting across a range of metals. And actual in-plant testing confirms it: Customers who have tried Norton Red Heat belts and discs are praising their cutting efficiency and long life.
To learn more about the new Norton Red Heat R983 line of belts, flap discs, and quick-change discs, click here. To speak with a technical representative and/or to book a test, please call (800) 551-4413.