92% of World Population Breathes Polluted Air
John Simpson | October 06, 2016
A new World Health Organization (WHO) air quality model has determined that 92% of the world's population lives in places where air quality levels exceed the agency's guideline limits for particulate matter.*
The model—the most detailed outdoor (or ambient) air pollution-related health data, by country, ever reported by WHO—is based on data derived from satellite measurements, air transport models and ground station monitors at more than 3,000 locations, both rural and urban. Information is presented via interactive maps, highlighting areas within countries that exceed WHO limits.
According to WHO, 3 million deaths a year are linked to exposure to outdoor air pollution. In 2012, an estimated 6.5 million deaths (11.6% of all global deaths) were associated with indoor and outdoor air pollution together, the organization says. Nearly 90% of air pollution-related deaths occur in low- and middle-income countries, with almost two-thirds occurring in WHO's South-East Asia and Western Pacific regions.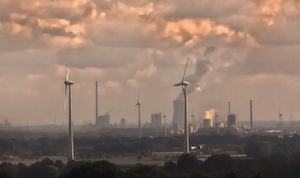 According to WHO, 3 million deaths a year are linked to exposure to outdoor air pollution. Image credit: Pixabay. "Air pollution continues to take a toll on the health of the most vulnerable populations," says Dr. Flavia Bustreo, WHO assistant director general. "For people to be healthy, they must breathe clean air from their first breath to their last."
Major sources of air pollution include inefficient modes of transport, household fuel and waste burning, coal-fired power plants and industrial activities. However, not all air pollution originates from human activity, WHO notes. For example, air quality can also be influenced by dust storms, particularly in regions close to deserts.
WHO says its model has carefully calibrated data from satellite and ground stations to maximize reliability. National air pollution exposures were analyzed against population and air pollution levels at a grid resolution of about 10 km x 10 km.
"This new model is a big step forward toward even more confident estimates of the huge global burden of more than 6 million deaths—1 in 9 of total global deaths—from exposure to indoor and outdoor air pollution," says Dr. Maria Neira, director, WHO Department of Public Health, Environmental and Social Determinants of Health. "More and more, cities are monitoring air pollution now, satellite data is more comprehensive and we are getting better at refining the related health estimates."
*WHO's ambient air quality guideline limits for particulate matter with a diameter of less than 2.5 micrometers (PM2.5) are 10 μg/m3 annual mean. PM2.5 includes pollutants such as sulfate, nitrates and black carbon, which penetrate deep into the lungs and in the cardiovascular system, posing significant risks to human health.