This story is sponsored by AGC Chemicals
AFLAS fluoroelastomers have a demonstrated record as high-performance seals that reliably resist heat, chemicals, acids, bases, and other challenging operating conditions and materials. Alternating copolymers of tetrafluoroethylene and propylene, AFLAS imparts properties to gaskets, O-rings, and hoses that allow them to outperform conventional FKM-type fluoroelastomers in many such environments.
The newest addition to AGC Chemicals' AFLAS product lineup, 200P is a terpolymer composed of tetrafluoroethylene, propylene, and vinylidene fluoride. Balancing heat and chemical resistance with improved low-temperature flexibility and base-resistant performance, it is suitable for a range of applications in oil and gas exploration and extraction, the chemical process industries—and, perhaps most notably, automotive components.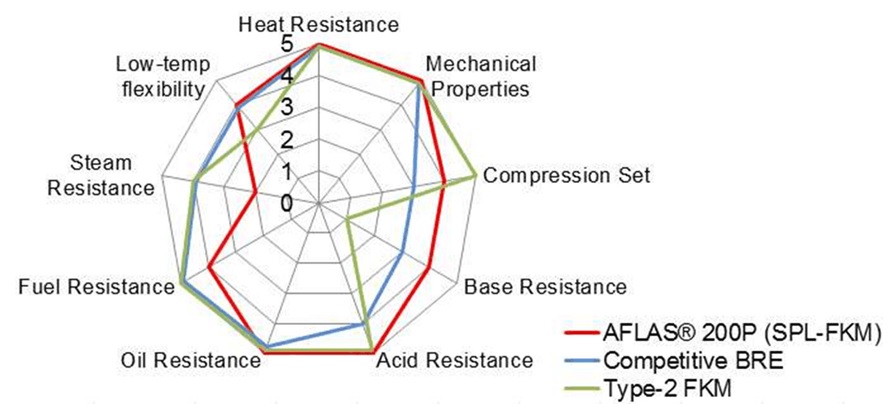 AFLAS 200P (SPL-FKM) is a peroxide-curable specialty fluoroelastomer classified by ASTM D 1418-01 as a Type 4 FKM. As shown in the chart, the product boasts better base (alkali) resistance than the competitor base-resistance elastomer (BRE) and vastly superior base resistance compared to conventional Type-2 FKMs. Additionally, it shows improved low-temperature flexibility over Type-2 FKMs.
Both of these properties help make AFLAS 200P suitable for both automotive and heavy-duty diesel engines. Gaskets and seals in this environment are continuously exposed to aggressive engine oils, gear lubricants, and grease. Such oils contain anti-oxidants—typically amine (alkali) compounds—designed to promote longer oil life. AFLAS 200P stands up well to these compounds to ensure that seals are maintained, and engine and transmission fluids do not leak.
Exposure to cold air temperatures can potentially cause hardening, cracking, and eventually failure and fluid leakage from a gasket or O-ring. AFLAS 200P improves cold-temperature performance, with a glass-transition temperature (Tg)—the temperature below which the polymer transitions to a hard, glassy material—of -13° Celsius (8.5° Fahrenheit). Its TR-10—the temperature below which it loses resiliency and transitions from rubber behavior to soft plastic behavior—is -8° Celsius (17.6° Fahrenheit).
AFLAS 200P (SPL-FKM) is not cured in the same manner as standard AFLAS "FEPM" products (100 and 150 series). The best-performing peroxide is Perkadox P-14Sfl or Vul-Cup 40KE. Triallylisocyanurate is the recommended co-agent and is required for the cure. Hydorotalcite is recommended for acid scavenger.
Press cure is accomplished at 170° Celsius (338° Fahrenheit) for 10 minutes, and conditions (temperature and time) should be decided in consideration of a number of factors, such as the size of parts, required properties, scorch safety, and mold release. Post cure should be conducted at 230° Celsius (446° Fahrenheit) for 24 hours.
AFLAS 200P is used in applications ranging from oil seals to O-rings; rubber-coated metal gaskets; and axle shaft, radial shaft, and pinion shaft seals. In addition to ensuring superior performance, its base-resistance and cold-temperature properties also promote longer life for these fluoroelastomer-based automotive components.
A significant feature of AFLAS 200P is that it can be solvated (in a butyl acetate solvent) and applied as a coating with very strong metal (stainless steel) bonding properties. This functionality is useful in ensuring the integrity of the seal on the head gasket—which sits between the engine block and the cylinder head and is the most critical sealing application in an engine.
AFLAS 200P—either spray coated or screen printed in a layer 30-150 microns thick onto the contact faces of the steel gasket—helps ensure that the gasket adheres to the cylinder block and head to prevent leakage of coolant or engine oil into the cylinders. The automatic transmission and gearbox gaskets can also be sealed in this same way.
In automotive and heavy equipment applications, AFLAS 200P capably withstands attack from amine-containing additives in oils and fluids. Owing to AFLAS 200P's excellent resistance to heat and oil (refer again to chart), its mechanical properties do not deteriorate in such environments, even when used in prolonged exposure to 200° Celsius (392° Fahrenheit). AFLAS can be used at maximum peak exposure at 230° Celsius (446° Fahrenheit).
As a test of its adhesiveness in a harsh chemical environment, two samples coated with AFLAS 200P and a conventional FKM, respectively, were soaked with Dexcool Organic Acid Technology Long Life Coolant and placed in a pressure vessel at 125° Celsius (257° Fahrenheit) for one week. The specimens were hung in the vessel so that they were exposed to the gas phase.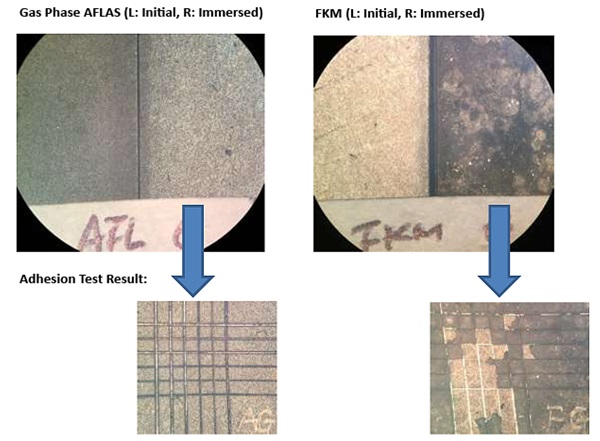 Following immersion, a cross-hatch test was administered to both samples to determine the resistance of each coating to separation from their respective substrates. In the test, a right-angle lattice pattern was cut into the coating, penetrating all the way to the substrate.
A standardized sticky tape was smoothed into place over the cross-hatch cut and then stripped off to determine the coatings' adhesion to the samples. AFLAS 200P significantly outperformed the conventional FKM, showing almost no visible signs of removal of the coating (see figure at right).
In coating applications, AGC Chemicals recommends a bisphenol curing in preference to peroxide so as to avoid the problem of off-gassing. Unlike other AFLAS "FEPM" grades (100 and 150 series), AFLAS 200P (SPL-FKM) is not recommended for steam-resistant use, as insufficient curing tends to adversely affect the mold-release properties. Complete post curing optimizes the compression set performance.
With its high heat, chemical, acid, base, and oil resistance—combined with improved low-temperature flexibility—AFLAS 200P (SPL-FKM) has wide-ranging utility across a number of sectors, from automotive and heavy-duty diesel to chemical processing and oilfield applications. To learn more about AFLAS 200P's use in a specific application, or to place an order, U.S. customers may speak with a technical representative by calling 800-424-7833. For additional information, click here.