Engineers at Ohio State University have developed a welding technique that could help automakers build lighter-weight cars.
The university's research project has already garnered patents for vaporizing foil actuator welding (VFAW). It will now receive U.S. Department of Energy funding to further advance the technology, which could overcome a longtime auto assembly challenge of joining dissimilar metals.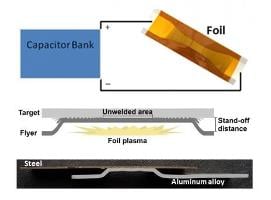 Schematic of a foil vaporizing process designed to help automakers join lighter-weight and dissimilar metals and reduce reliance on heavier steel.The technology uses a high-voltage capacitor to create an electrical pulse inside a piece of aluminum foil. In the process, the foil vaporizes and creates a high-velocity burst of gas that pushes two pieces of metal together. The force of the impact bonds the metal pieces at the atomic level, so there is no melted metal seam as occurs in most welding methods.
Glenn Daehn, principal investigator on the project, says VFAW "consumes less than one-fifth of the energy than a common welding technique, yet creates bonds that are 50% stronger."
Daehn also says that VFAW can join widely disparate combinations of metals. This enables manufacturers to make auto bodies from high strength-to-weight-ratio materials such as aluminum and magnesium instead of steel.