Sponsored content
Bringing the fruits of the 'digital manufacturing era' and Industr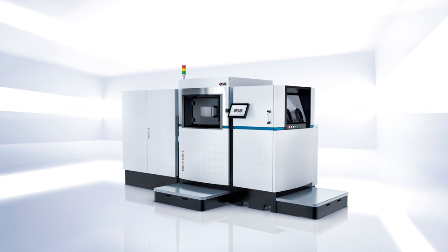 y 4.0 to bear is additive manufacturing (AM), where digital designs become physical. As the promises of AM are realized, demand for larger and more complex parts has risen and AM systems must continually expand and improve. Pushing the envelope to the next level is the EOS M 400-4, a new system that shatters boundaries of additive manufacturing to achieve higher productivity, efficiency combined with DMLS part quality.
The system provides a large building platform with four lasers leading to an increased productivity. There are three components that put the system within a class of its own.
Four lasers enable faster production – The EOS M 400-4 offers a large building volume of 400 x 400 x 400 mm and is equipped with four 400 Watt lasers operating independently in 250 x 250 mm squares each including an overlap of 50 mm. The exceptional beam and power stability ensures highest Direct Metal Laser Sintering (DMLS) part quality. It takes innovation to the next production level as it quadruples productivity.
Advanced gas management system ensures part quality – The new system comes with the patented EOS ClearFlow process gas management technology, ensuring optimal and consistent processing conditions. This technology distributes gas in an intelligent way to avoid interference with the lasers. This system also consists of an integrated industrial-grade, recirculating filter system that increases lifetime and significantly reduces operating times and expenses.
Workflow designed for production environment – Usability and workflow on the EOS M 400-4 have been designed to meet demanding production requirements and enable easy integration into existing production environments. The data preparation and calculation is separate from the building process, enabling the system to build parts 24/7. It is easily operated via a touch screen and a task-based graphical user-interface.
For example, this system provides EOS customer Siemens with the speed and efficiencies needed to progress within the energy industry's fast-moving digital environment. The company was particularly interested in the way the EOS M 400-4 can be integrated into existing production environments, opening up flexibility and scalability for future innovations.
When EOS was created, its founder, Dr. Hans J. Langer foresaw the role that AM would serve within the coming era of digital manufacturing. Today, EOS is living out that vision and continuing to expand the world of possibilities afforded by AM.
For additional information about the EOS M 400-4, please visit our website, or stop by the EOS booth at IMTS in Chicago from September 12-17.
To speak with a technical representative, or to schedule a demonstration, please contact your local EOS-North America sales representative or call 248-306-0143.