For most applications involving rolling element bearings, standard greases or oils will adequately lubricate a bearing's rolling elements and raceways. However, in instances of extreme or especially demanding operating environments, conventional lubricants may not be able to make the grade.
For example, heavily contaminated process areas subject to frequent wash downs (such as in the food and beverage industries) will severely test bearing greases. Another challenge: accessibility for relubrication may be difficult or virtually impossible.
Such scenarios have led to the development of "non-traditional" bearing lubricant technologies, such as Solid Oil. SKF Solid Oil bearings ultimately promote increased bearing service life and increase machinery uptime.
Solid Oil bearings from SKF are lubricated with a polymer material featuring a porous structure (millions of micro-pores), which is saturated with high-quality synthetic lubricating oil. The pores in the polymer material are so small that the oil is retained in the material by surface tension.
The entire bearing cavity is filled with the material, which encapsulates a bearing's cage and rolling elements, and then is cured. In the curing process, a very narrow gap forms around the rolling elements and raceways to enable the bearing's components to rotate. As the bearing rotates in service, the oil moves into the bearing contact points, providing lubrication right from the start. When operation stops, excess oil is re-absorbed, ready to be released again when needed.
Since the polymer material contains two to four times more lubricating oil than standard grease-filled bearings, re-lubrication of the bearing becomes unnecessary, resolving accessibility and maintenance issues and contributing to uninterrupted bearing service.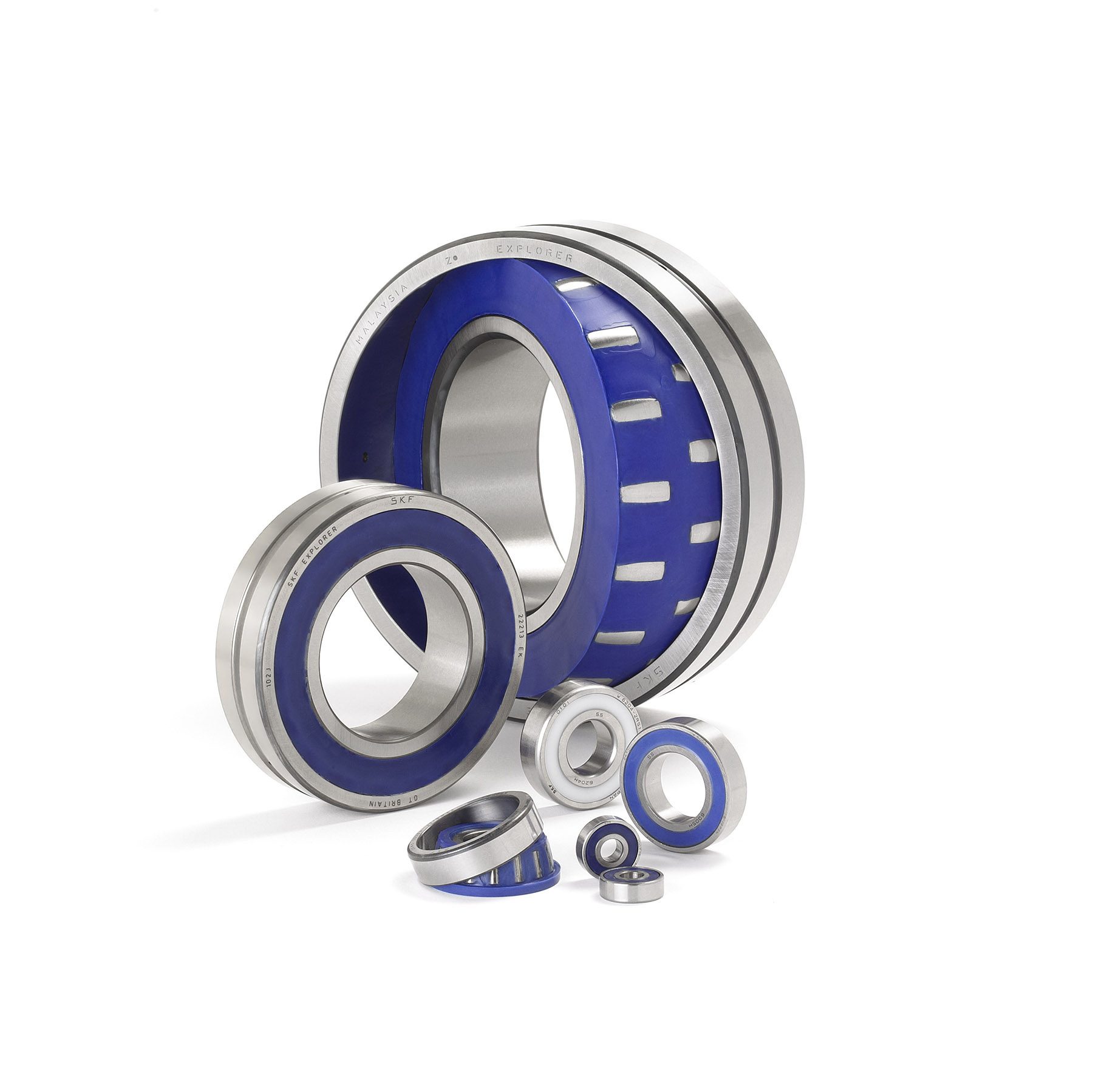 Most standard bearings can be supplied as Solid Oil bearings, with the exception of bearings fitted with large-volume cages due to the limited space available for the polymer. The basic dynamic load ratings for Solid Oil bearings are identical to those for corresponding standard bearings.
Notable applications for Solid Oil bearings in the food and beverage industries include packaging and bottling machines, mixers, blenders, conveyors, separators, grinders, freezers, and yeast ovens – and food grade Solid Oil bearing variants have been developed as unprecedented solutions to meet NSF H1 food safety standards. In the metal and material handling industries, typical applications include overhead cranes, chains, crane wheels, support rollers, rope sheaves, and conveyor systems, among others.
Solid Oil bearings represent suitable solutions for critical operating applications where conventional bearing grease or oil traditionally will fall short. As with any technology, however, it is important to note that every application can present its own set of unique challenges. Our recommendation is to partner with an experienced SKF resource to add perspective, educate about the most viable approach consistent with an operation's needs, and help to oversee application success for the good of equipment reliability, uptime, and productivity.