Automaker Fabricates Vehicle Panels from Graphene
John Simpson | August 15, 2016
UK-based Briggs Automotive Co. (BAC) is claiming to be one of the first vehicle manufacturers to develop a car with panels made from graphene, the strong and lightweight carbon material.
BAC has partnered with Haydale Composite Solutions to create rear-wheel arches made out of the material, which it has fitted on its Mono, a street-legal single-seat car.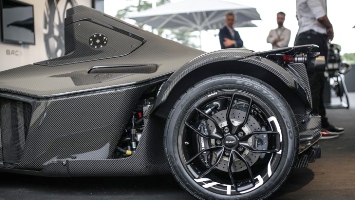 (Click to enlarge.) BAC partnered with Haydale Composite Solutions to create the graphene rear-wheel arches. Image credit: BAC.Graphene is made of sheets of carbon one atom thick and is lighter and stronger than standard carbon fiber. BAC says use of graphene can realize weight reductions of around 20% compared to carbon fiber. It may boast strength of up to 200 times that of steel. These benefits could have implications for cost, performance and fuel economy when applied more widely in the manufacturing process, the automaker says.
BAC says it chose to specify graphene for the Mono's rear-wheel arches because the size and complexity of the part would test both the manufacturing process and how the material fit with the car.
"These initial materials have shown some major increases in impact and thermal performance coupled with improved surface finish," says Ebby Shahidi, Haydale Composite Solutions' director of aerospace and defense.