Sponsored Content
Molded fiber paper continues to gain in popularity as a food-packaging material. As a pulp-based product, it can be easily formed into complex three-dimensional shapes that—for any number of end-use applications—can be a less-expensive packaging option than competing materials such as expanded polystyrene and vacuum-formed PET. Moreover, it can be fabricated wholly from recycled materials, and recycled anew after use, making it a more sustainable food-packaging choice than many plastic-based options.
However, paper packaging—particularly that manufactured from recycled fibers—is not equipped to stand up to the liquids and emulsions that it is exposed to in food-contact applications without the incorporation of a high-performance water and oil repellent agent. Complicating matters is that recycled pulps often contain mineral fillers that can pose compatibility problems with conventional fluorochemical products used to strengthen paper against oil- and water-based fluids.
AsahiGuard for Molded Fiber Paper is a fluorinated repellent formulated specifically to provide molded fiber packaging with resistance to the oil, grease, water, and high temperatures associated with food that can cause product failure. The product is a highly concentrated (20%) high-performance repellent that can be introduced either at the wet end (internal sizing) or the size press end (external sizing) of the paper production process.
When incorporated into the pulp mixture, AsahiGuard adsorbs into the fibers, imparting low-surface energy throughout the finished paper so that it can effectively resist penetration by the higher-tension fluids it commonly comes into contact with in food-packaging applications. This method is particularly appropriate for maintaining oil and water repellency in folded-paper applications, which may expose the package's internal fibers to contact with such fluids. AsahiGuard may also be applied as an external coating after the paper has been manufactured to impart oil and water repellency to a finished (sheet) paper product that will not undergo any folding or forming prior to its use in a food-packaging application.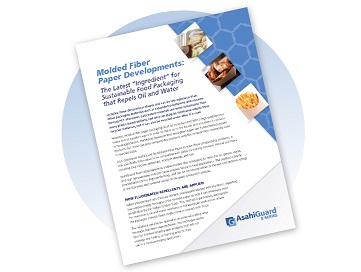 AsahiGuard is unscented and imparts a high-quality, non-stick, non-toxic food contact use-approved barrier to paper packaging materials from molded products to paperboard. It is certified for food-contact paper applications including fast-food wrappers, bags for microwave popcorn, and pet food packaging—as well as pulp-molded products such as clamshells, bowls, sectioned trays (both food and medical) and plates.
As a highly concentrated formulation, AsahiGuard for Molded Fiber Paper affords a number of competitive advantages to molded fiber paper manufacturers. It has high application efficiency, which means that less product is required to achieve the desired results. Additionally, its high-concentration formulation also helps reduce manufacturers' per-unit transportation costs.
As noted previously, pulps made from recycled fibers frequently contain high levels of mineral fillers—including clay, calcium carbonate, titanium dioxide, and talc. AsahiGuard is compatible with pulps containing these and other common mineral fillers, thus avoiding the processing and performance problems associated with other paper-sizing chemistries. Moreover, it does not typically require any additional water-size additives, produces few deposits on processing equipment during paper manufacturing, creates very little foam, and does not react with oxidized starch or other coating chemicals.
AsahiGuard emits only low levels of volatile organic compounds and is formalin-free, non-flammable, and non-corrosive. It meets the most stringent regulatory requirements internationally, including the U.S. Toxic Substance Control Act and applicable Food and Drug Administration regulations, Japan's Food Sanitation Law, and European Union (BfR) standards.
For additional product information about AsahiGuard for Molded Fiber Paper, visit the AsahiGuard product page. To speak with a technical representative regarding AsahiGuard's utility in a specific application, or to place an order, U.S. customers may call 800-424-7833.