BAE Systems Looks at "Growing" UAVs in Chemistry Labs
John Simpson | August 04, 2016
Engineers and scientists at BAE Systems and the University of Glasgow believe that small unmanned air vehicles (UAVs) could be "grown" in large-scale chemistry labs, speeding up evolutionary processes and creating custom military aircraft in weeks rather than years.
A radical new machine called a Chemputer, now under development at the University of Glasgow, could enable the advanced chemical processes required to grow aircraft and some of their complex electronic systems, conceivably from the molecular level upwards, the researchers say.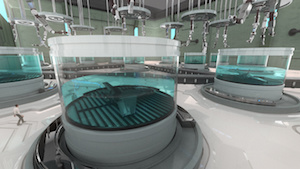 An artist's impression of the "Chemputer." Image credit: BAE Systems. The technology could use environmentally sustainable materials and support military operations in which a multitude of small UAVs with a combination of technologies serving a specific purpose might be needed quickly, according to BAE Systems. It could also be used to produce multi-functional parts for large manned aircraft.
"We have been developing routes to digitize synthetic and materials chemistry and at some point in the future hope to assemble complex objects in a machine from the bottom up, or with minimal human assistance," says Lee Cronin, professor of chemistry at the University of Glasgow, who is developing the Chemputer.
"Creating small aircraft would be very challenging, but I'm confident that creative thinking and convergent digital technologies will eventually lead to the digital programming of complex chemical and material systems," he adds.
The researchers envisage such aircraft performing a variety of missions in which a rapid response is required. These include deploying emergency supplies for special forces inside enemy territory using a sophisticated release system and deploying small surveillance aircraft.