Reduce Your Finishing Operation's Steps with Norton's Rapid Finish General Purpose Convolute Wheels
September 08, 2016
Sponsored content
A wide variety of products, from automotive wheels to door handles, owe their shiny good looks to a non-woven abrasive wheel. Unlike other machining processes that remove relatively large pieces of stock material, such as those involving bonded or coated abrasives, non-woven products are used to eliminate smaller bits from a workpiece—whether to impart a desired finish, ensure a part's performance, or both. The conformable fiber matrix of non-woven products allows their abrasive particles to uniformly contact and polish the workpiece surface.
Non-woven products are used in deburring, blending, polishing, finishing, and light-to-heavy-duty cleaning of metal, glass, wood, and other materials. As such, they are employed widely across many manufacturing industries, including aerospace, automotive, electronics, medical products, and others.
With as many applications and markets to cover as these, shops face a potentially dizzying array of non-woven products from which to choose to meet their customers' varied needs. Norton R & D has simplified that process with the introduction of the Rapid Finish General Purpose (GP) line of convolute wheels, which are designed to meet 80% of machine shops' non-woven operations.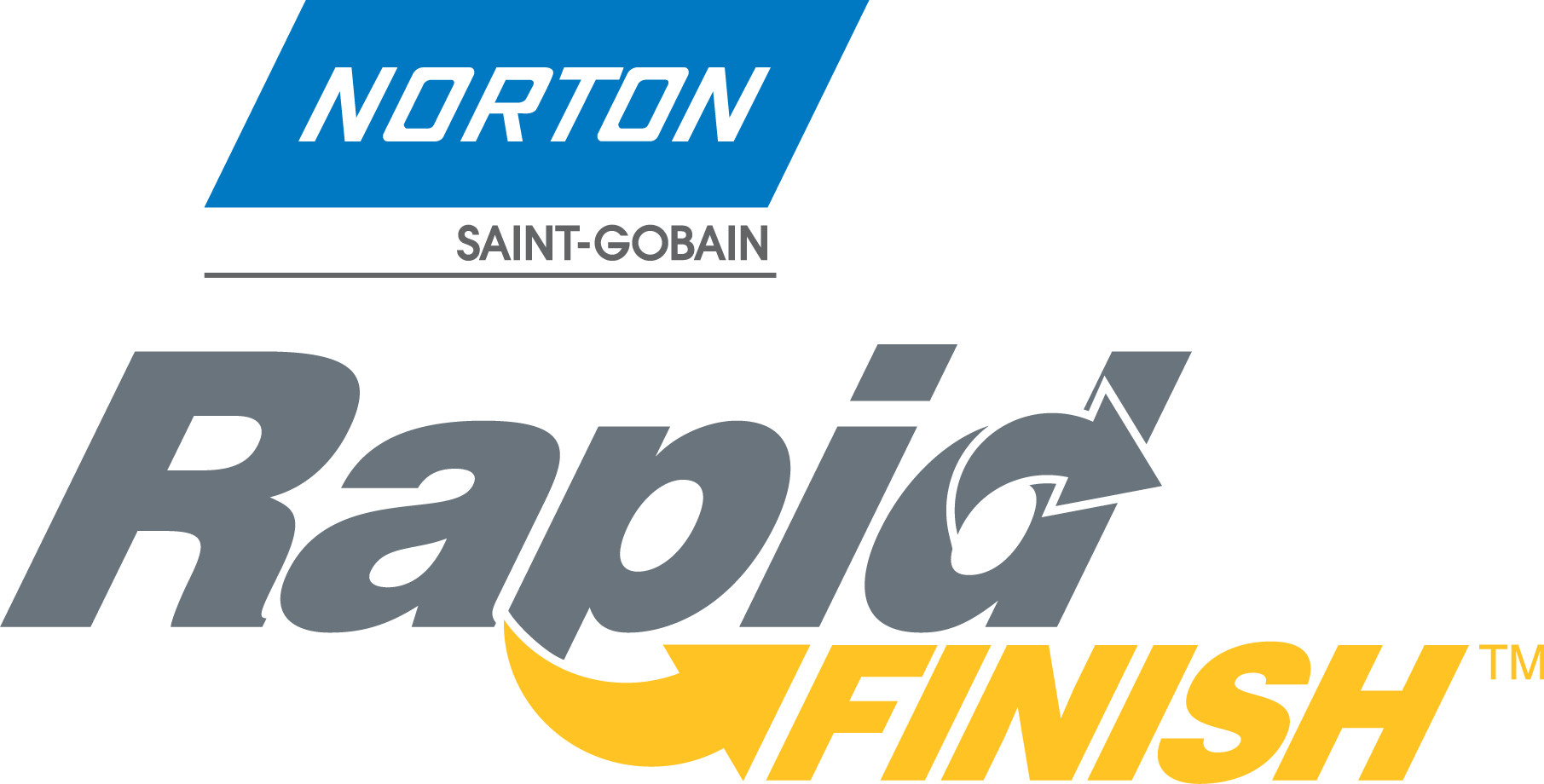 Norton Rapid Finish GP convolute wheels are comprised of a web of nylon fibers, bonded together with synthetic resins, wrapped around a fiberglass core. The fibers are impregnated with abrasive grains of either silicon carbide—for operations in which quicker cutting and finer scratch patterns are required—or aluminum oxide, which generally offers longer wheel life. Our patent-pending Norton Clean Bond resin technology guarantees smear-free finishes on a wide range of materials.
All Norton non-woven wheels are now conveniently color-coded by function: maroon for the GP; and brown and green, respectively, for Heavy Duty Debur and Final Finishing applications (the latter two Norton will be introducing to the market in the near future). No more gray wheels means no more mix-ups on the shop floor. Th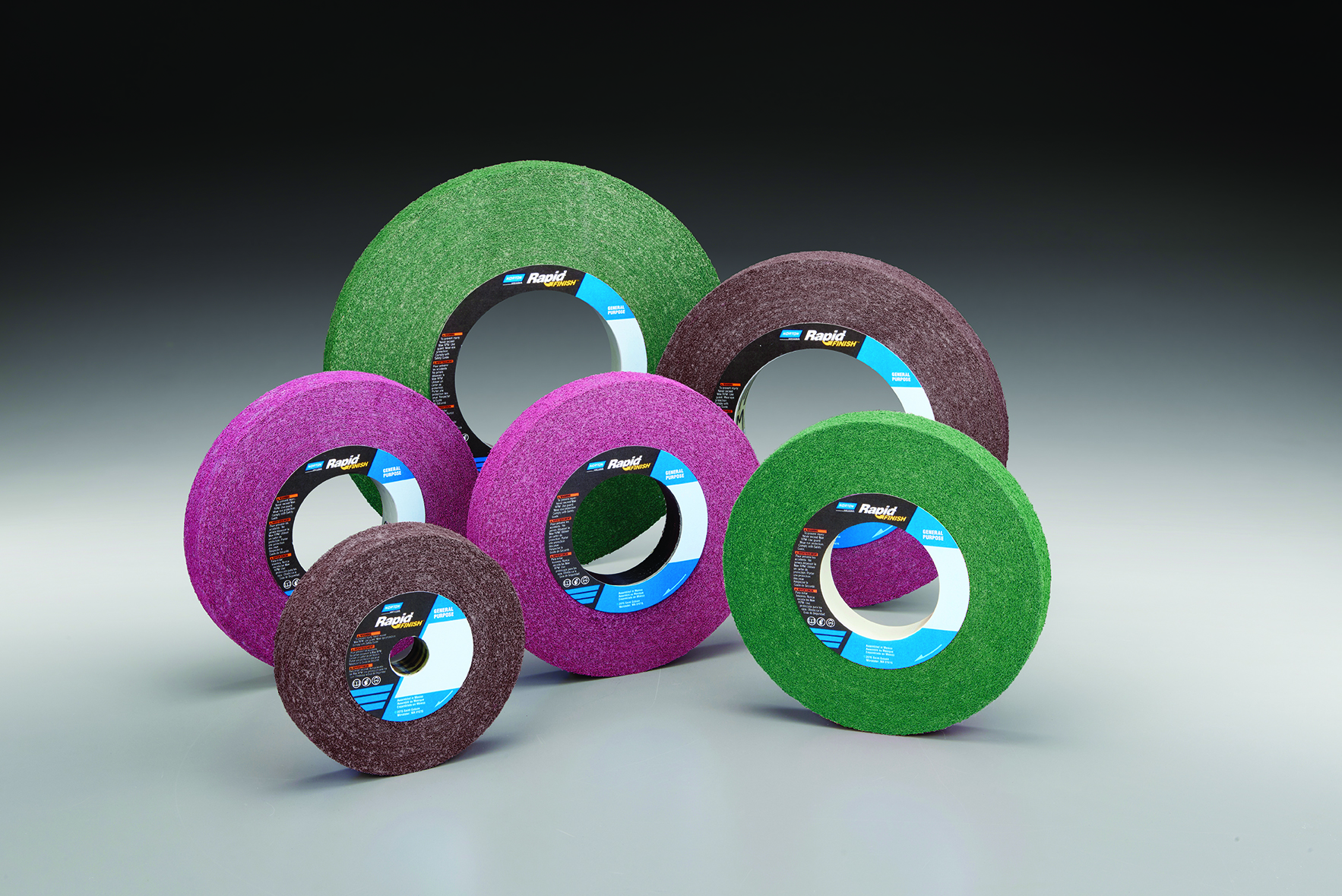 e cores are likewise colored according to the type of abrasive material embedded in the wheel, white for aluminum oxide and grey for silicon carbide.
As the GP line is intended for broad utility, its wheels come with a range of grit sizes—coarse, medium, and fine—and in a variety of densities. Density refers to the amount of fibers compressed into the abrasive material; densities of 5 (soft) through 9 (hard) are available. This wide range affords machine operators the flexibility to work on diverse materials, including titanium, glass, stainless steel, carbon steel, Inconels, non-ferrous metals, hard woods, and soft woods, among others.
In addition to simplifying operations via the use of color-coded wheels and cores, Norton Rapid Finish General Purpose convolute wheels have been engineered to provide superior performance. The new fiberglass core replaces a phenolic core to allow for tighter dimensional tolerances. Norton fiberglass cores are delivered just .004 in. larger than the arbor size, compared with .025 in. for conventional cores.
Its tighter tolerance improves concentricity and reduces truing times. Vibration is also decreased, resulting in less noise, greater operator comfort, and an improved finish for the part. Moreover, the fiberglass core is waterproof, so it won't erode regardless of how much water or coolant is used during operation.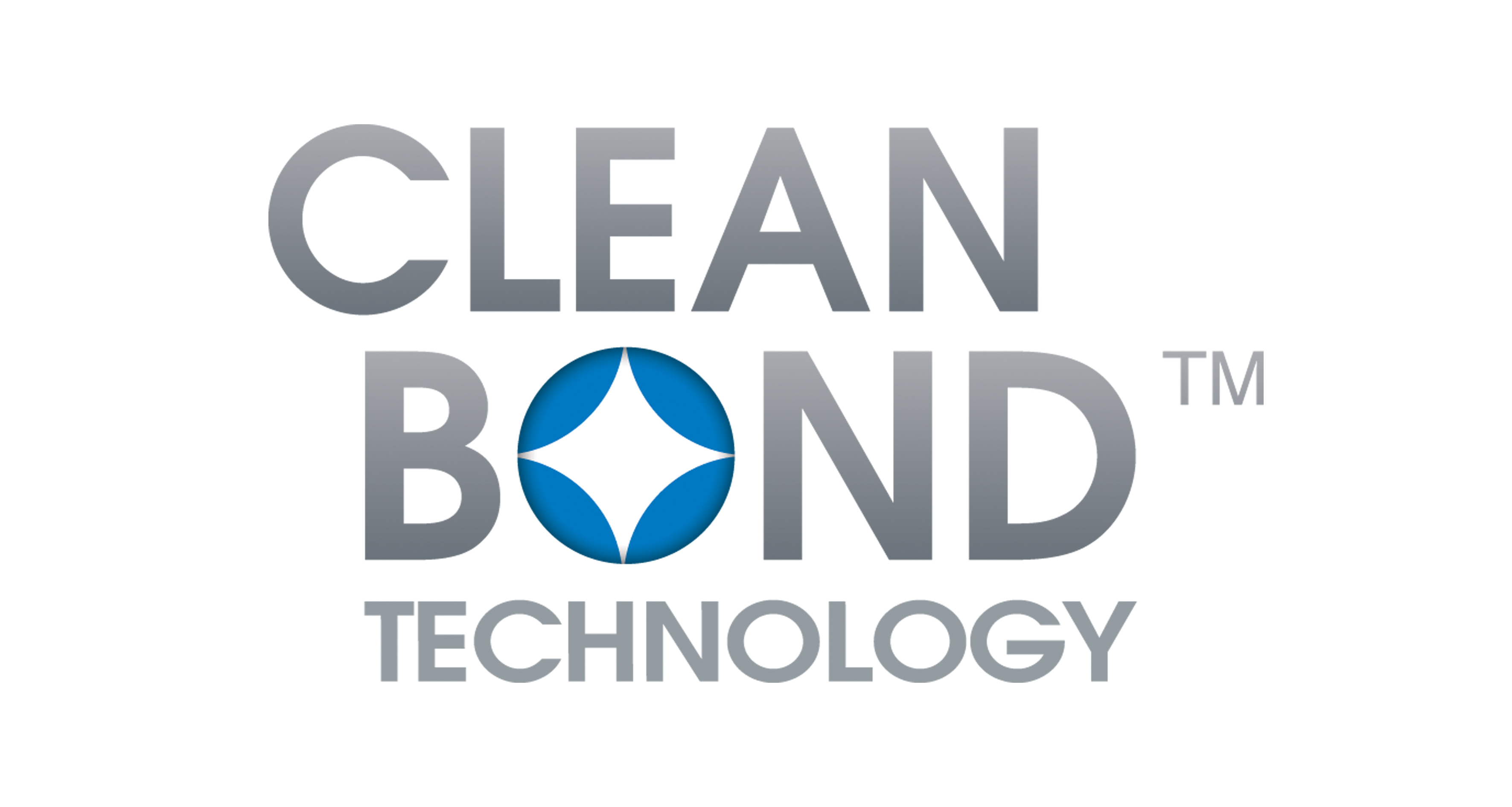 Norton's Clean Bond resin technology further improves both operator experience and the quality of the finished part. Case studies demonstrate that the resin's new bond configuration increases throughput with a 30% faster finish, while extending wheel life by 10-30%. The resin's ability to withstand high temperatures minimizes loading of metal or coolant in the wheel and ensures that sharp new points are continuously exposed during finishing. Tests have further shown that the Clean Bond high-temperature resin eliminates smearing on workpieces.
In a recent consultation, a prospective customer was encountering difficulty removing the (carbon steel 1095) edge burr in their multi-head coil-polishing operation. A Norton 9SF Rapid Finish General Purpose convolute wheel was substituted in place of the existing 9SF convolute wheel of a competitor. The Norton GP wheel eliminated all burrs from the blade roll in a single pass and, unlike the incumbent wheel, did not require lubricant application. Norton's wheel achieved almost double the cut rate while shedding 30% less (after one roll) than the incumbent wheel. The operator commented that the Norton wheel was more concentric and did not generate vibration on the roll as it was being fed through the grinders.
At a second shop, Norton's Clean Bond GP 6SVFN CVW was tested in place of a comparable competing wheel to polish stainless steel 316 plates. Norton's wheel produced a better finish (RA of 5um vs. RA of 9um for the competitor) and demonstrated 30% longer life (wear of .02 in. for the Clean Bond vs. wear of .03 in. for the competitor over the same number of parts).
Norton's Rapid Finish General Purpose line of convolute wheels are designed to streamline your production shop operations. Color coding of wheels and cores eases wheel selection on the shop floor, while the pared down selection of SKUs simplifies inventory operations. Couple those advantages with Clean Bond's high-temperature resin and the new high-performance fiberglass cores and the result is faster cutting, less wheel wear, greater machine operator comfort, and higher productivity.
For additional information about Norton's Rapid Finish General Purpose line of convolute wheels, watch the video or download the brochure from Norton. To speak with a technical representative, or to schedule a test, please contact your local Norton sales representative or call 800-551-4413.