If you think your small flash drive can store a ton of data, future USB memory devices may hold twice as much. Japanese scientists have developed a device that uses both electronic and magnetic signals, which could help double the storage capacity of conventional memory devices.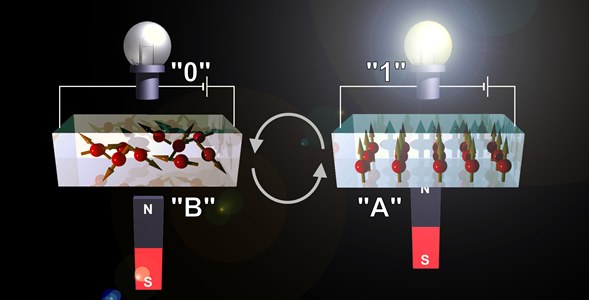 The device uses both an electronic and a magnetic signal. Image source: Hiromichi OHTA, Hokkaido University Typical USB flash drives are electronic data storage devices that store information by using millions of small gates that process information into "words." These words consist of combinations of the numbers 0 and 1.
Materials scientists at Japan's Hokkaido University's Research Institute for Electronic Science wanted to find out if they could double the storage capacity of these devices by adding a magnetic signal along with the electronic signal. In addition to the binary 0-1 method of storing information, their approach would add an A-B store for the information as well.
Doing this required a material that can switch back and forth from a magnetic to a non-magnetic state. Researchers tested two forms of strontium cobalt oxide, or SrCoOx. One is an insulating non-magnet while the other is a metal magnet. By changing the oxygen content in the compound, researchers caused it to switch between the two forms.
However, both methods had drawbacks. One method requires using a high-temperature heat treatment, which would make it impossible to use in smartphones and other devices that work at room temperature. The other involves using an alkaline solution, which could pose a problem if it leaked from the device.