Sponsored Content
When it comes to attaining the best roundness, dimensional tolerance and surface finish for bar stock, centerless grinding is the clear choice among machine operators. The throughfeed grinding process is particularly favored in high-volume job shops where parts must be produced efficiently and economically.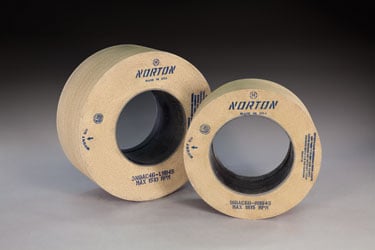 (Source: Norton Abrasives)
With these objectives in mind, Norton R & D engineers have developed Norton Century45 high-performance wheels, designed to improve the cost-competitiveness of centerless grinding operations both large and small. Norton Century45 grinding wheels use ceramic, aluminum oxide and silicon carbide blends to grind bar stock made from a wide variety of materials, including carbon steel, aluminum, cast iron, stainless steel 300/400 series, titanium, nickel alloys (Inconel) and copper.
Norton Century45 wheels, with B45 bond, are specifically designed to yield greater efficiency by achieving higher levels of stock removal per pass than competing wheels—more than double in some cases. Fewer passes to remove the same amount of material, mean reduced cycle times and higher production rates.
Despite their work rate, Norton Century45 wheels are engineered for durability and can last up to twice as long compared to standard wheels. Fewer wheel changeovers result in less down time, lower wheel inventory, reduced production costs, and higher productivity.
What's more, Norton Century45 wheels are designed to contribute to a more comfortable, healthier work environment for machine operators on the shop floor. The wheel has been shown to reduce grinding noise by a staggering 23.2 dB in some cases. To put this reduction in context, many commercially available foam ear plugs offer noise-reduction ratings in the range of 25 to 28 dB!
In a recent consultation, a Norton Century 45 wheel was brought in to a potential customer's facility to improve the operation of the customer's 40-hp Cincinnati Twin Grip centerless grinder, used to round and polish Inconel bar stock. The incumbent 24" x 20" x 12" 80-grit silicon carbide resin bond wheel removed 0.005" of the Inconel alloy bar per pass. A Norton Century45 2-wheel set—32CA60-PB45 (10"), 32CA80-PB45 (10"), with a removal rate of 0.012" per pass, was substituted in its place and achieved not only a 140% higher stock removal rate, but also a 100% improvement in wheel life vs. the incumbent as a result of a 50% reduction in cycle time. Moreover the Norton wheel significantly reduced the noise level during grinding.
The Norton Century45 wheel demonstrated a total cost reduction of 30% over the incumbent wheel—resulting in an estimated annual savings of $98,801. As a result, check test orders were placed and the customer is now in the process of converting its grinding wheels.
Separately, Norton was consulted to improve the abrasive life, and decrease the overall costs, of a 50-hp Cincinnati #3 centerless grinder used to round and polish the bar stock of a variety of steel alloys, including 1045, 10V45, 4140 and 17-4. For purposes of the test, a Norton Century45 wheel—3NQAC36-S9B45—was selected to replace the incumbent 24" x 8" x 305 46-grit aluminum oxide resin bond wheel.
The Norton Century45 wheel produced a 25% higher stock removal rate over the incumbent wheel (0.005" vs. 0.004" per pass) and a 32% improvement in G-ratio—the volume of material removed per unit volume of wheel wear. The net result was a 100% performance/cost improvement over the incumbent wheel.
Here again, operators observed a greatly reduced grinding sound from the Norton Century45 wheel. And, based on the improved performance shown by the Norton Century45 wheel, the customer placed larger check test orders.
As shown in the above case studies, selection of a more productive abrasive wheel can save significant amounts of time, effort, and money in a grinding operation. Fewer wheel changes, less down time and higher efficiency all mean greater capacity to handle additional jobs. Particularly for larger operations with multiple grinders, the productivity—and remunerative—dividends can be quite significant.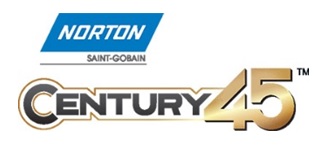 Over 130 years ago, the former Norton Company manufactured the first mass-produced, precision-made grinding wheel, and today Norton | Saint-Gobain Abrasives is the world's largest fabricator and supplier of abrasives for commercial and household applications, as well as automotive refinishing usage. Norton Century45 wheels represent the culmination of over a century's experience in creating specialized grinding wheels for an ever-expanding range of alloys.
For additional information about Norton Century45 wheels, read the whitepaper or download the flyer from Norton.
To speak with a technical representative, or to schedule a test, please contact your local Norton Sales representative or call 800-551-4413.