Dual-Fuel Garbage Trucks to Showcase Hydrogen's Transport Potential
John Simpson | June 08, 2016
Liverpool-based ULEMCo has delivered what it claims are the world's first hydrogen dual-fuel garbage trucks to Fife Council, in Scotland. The trucks, converted to run on hydrogen and diesel, are expected to reduce carbon emissions and improve air quality in densely populated urban areas.
ULEMCo, owner of the dual-fuel technology, carried out the conversions on two Heil Farid vehicles. The work is part of the Levenmouth Community Energy Project, which will also see the conversion of five Ford Transit vans and ten Renault HyKangoo vans to hybrid-electric and hydrogen fuel cell operation.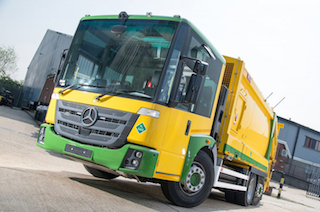 ULEMCo carried out the conversions on two Heil Farid trucks. Image credit: ULEMCo."We envisage Levenmouth Community Energy Project becoming home to one of Europe's largest fleet of hydrogen dual-fuel vehicles," says Lesley Laird, deputy leader of Fife Council.
"Hydrogen vehicles are the latest form of technology deployed in the effort to decarbonize the use of energy in Scotland, with the only emission occurring from these vehicles being water vapor," adds George Archibald, chief executive of Bright Green Hydrogen, a Levenmouth project consortium member. "Hydrogen refueling has been installed in London, Swindon and Aberdeen, but the Levenmouth project involves developing the largest concentration of vehicles in the UK."
While ULEMCo has previously converted light commercial vehicles to hydrogen fuel, the garbage trucks represent their first conversion of a so-called "heavy goods vehicle" (over 3,500 kg). "We believe that for these types of vehicle, there are few [other] options available today to dramatically address improved emissions," says company CEO Amanda Lyne.
In addition to lower carbon emissions, ULEMCo says replacing significant quantities of diesel in the vehicles' garbage collection duty cycle with locally manufactured low-carbon hydrogen will help lower the cost of diesel fuel.
The Levenmouth Community Energy Project, funded in part by a £4.5 million award from the Scottish government, is scheduled to run through 2020.