Engineering Is Hot: Here Are Some of the New Schools, Degrees and Expansions!
Winn Hardin | June 14, 2016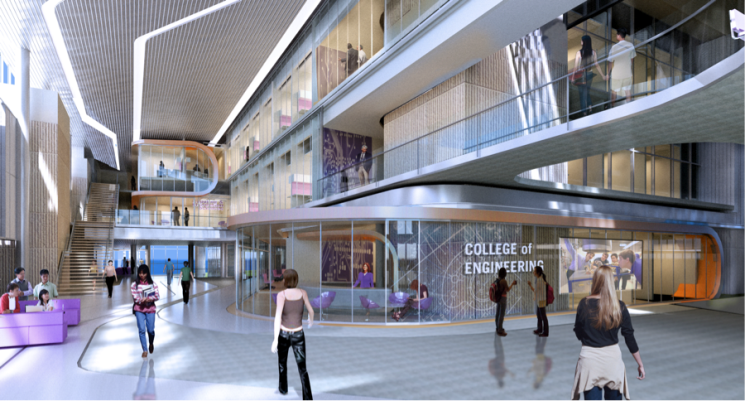 Kansas State's College of Engineering expansion is designed to accommodate increasing enrollment and future technology.
While debate exists about whether the United States faces an overall shortage of engineers, students are pursuing engineering degrees in record numbers.
According to the most recent data from the National Science Foundation, science and engineering bachelor's degrees hit a new peak in 2013 of more than 615,000 following a steady climb since 2000. Graduate enrollment also rose nearly 25% in that same time frame.
Norman Fortenberry, executive director of the American Society for Engineering Education (ASEE), attributes this rise to two primary factors. One is the national emphasis on STEM, or science, technology, engineering and math. The other, he says, is that "people are beginning to understand that every engineering discipline has a profound effect on human health and happiness."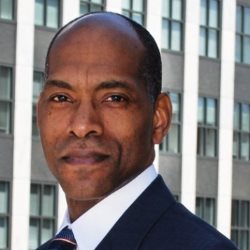 Norman Fortenberry, ASEE executive director.Engineering is important both as a career field and "as preparation for variety of post-baccalaureate outcomes in an increasingly technological society," Fortenberry says. "People who have an engineering degree are going on to law, medicine, business — particularly entrepreneurship — and government."
Universities across the U.S. are responding to this growth by expanding their facilities, adding departments and degrees and, in several cases, launching entirely new schools of engineering. Engineering360 takes a look at some of the most recent post-secondary engineering initiatives under development.
New Colleges
Three universities have announced recent plans to form dedicated schools of engineering. The University of Albany wants to transform a century-old former public school building into its new College of Engineering and Applied Sciences (CEAS). The $60 million project will feature 127,000 square feet of classroom, research and office space that can accommodate more than 1,000 students and 180 faculty and researchers. The facility also will have a 1,000-seat auditorium and space to collaborate with local schools and community organizations. CEAS will be one of UAlbany's largest academic expansions in 50 years.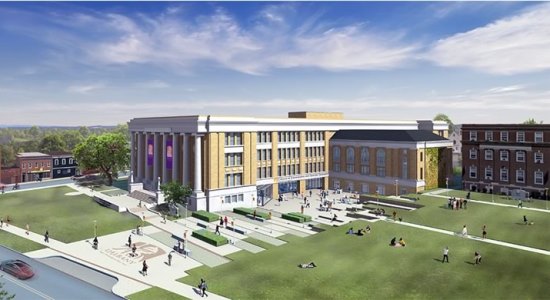 UAlbany wants to transform an old high school into its new College of Engineering and Applied Sciences.In Hamden, Conn., Quinnipiac University will open its new school of engineering in the fall of 2016 with 190 students and 17 faculty members. It will offer bachelor of science degree in civil, mechanical, industrial and software engineering, as well as computer science. The university spent $9 million to build engineering laboratories for students, who for the last four years have been taking engineering courses through the School of Business and Engineering.
When it welcomes its inaugural class of 50 students in fall 2016, Campbell University's School of Engineering in Buies Creek, N.C. near the Research Triangle region will focus on a hands-on, project-based curriculum. The interdisciplinary bachelor of science has concentrations in mechanical and chemical/pharmaceutical engineering. Students will have access to facilities for 3D printing, metal and woodworking fabrication, and a class-lab equipped with engineering workstations. Campbell will be the second private university in North Carolina to house an engineering school.
New Departments
As the government forecasts a 62% increase in biomedical engineering jobs between 2010 and 2020, a few colleges are adapting to the projected growth. The University of Oklahoma is building a facility to house its new School of Biomedical Engineering. Enrolling its first students in the 2016 academic year, the school will further develop its current focus on biomedical imaging, nanomedicine and neuroengineering.
Michigan State University also is constructing a building for its new Department of Biomedical Engineering, which offers its first graduate-level courses in the fall of 2016. The goal is to deliver technological innovations to the large network of healthcare providers served by the university.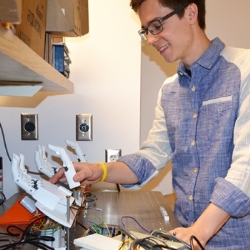 Engineering students at the University of Illinois will be able to pursue a dual degree in Innovation, Leadership and Engineering Entrepreneurship.Additionally, MSU's Department of Computational Mathematics, Science and Engineering (CMSE) just wrapped up its inaugural year. Key focus areas are algorithm development and analysis, high-performance computing and applications to scientific and engineering modeling and data science. The department aims to break down the academic silos that exist within computation "and work together to solve problems, because that's how the real world works," says Leo Kempel, dean of MSU's College of Engineering.
New Degrees
Entrepreneurship initiatives are becoming more common in engineering education, but usually they come in the form of minors, courses or extracurricular activities. The College of Engineering at the University of Illinois at Urbana-Champaign plans to offer a new dual-degree program in Innovation, Leadership and Engineering Entrepreneurship for students in September, pending approval from the Illinois Board of Higher Education. The degree was born out of the college's Technology Entrepreneur Center (TEC), which since 2000 has offered courses, product competitions and workshops exposing students to tech innovation and market adoption. Participation has doubled in the last five years, with more than 1,000 students currently taking at least one TEC class.
"This degree will help teach the skills our students need to guide companies and projects large and small, to start new ventures, and to be pioneers in any environment," says TEC director Andy Singer.
Additionally, UI announced the Illinois Design Center, where students from all disciplines will acquire skills such as analytical reasoning and problem framing, and will work both autonomously and in collaboration to prototype and test ideas. The $48-million center, slated to open in December 2018, will include maker spaces, research labs and living-learning communities.
According to recent data from the U.S. Bureau of Labor Statistics, employment of environmental engineers is projected to grow 12% from 2014 to 2024. To address this expanding job market, the University of Pittsburgh's Swanson School of Engineering will offer a new major in the field starting with the 2016-17 academic year. Pennsylvania is one of five states with the highest employment levels of environmental engineers.
Facility Expansions
To address increased enrollment and overcrowding of faculty and graduate student offices, Kansas State University's College of Engineering is embarking on phase IV of its expansion project. The project will create approximately 107,000 square feet of classrooms, teaching and research labs and office space as it connects three existing buildings to form a completed engineering complex. Kansas State says the facility will be adaptable "for specialized research and equipment, hands-on teaching activities and future technology." The complex also is expected to provide enough capacity to help accommodate the state legislature's goal of increasing the annual number of engineering graduates by about 60% by 2023.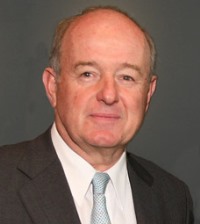 Barry MacLean, CEO of MacLean-Fogg, donated $25 million toward Dartmouth's Thayer School of Engineering expansion.Scheduled for completion in fall 2017, the Louisiana State University College of Engineering's $110 million renovation and expansion will total more than 462,000 square feet of academic space. A new chemical engineering building will connect to the updated complex featuring classrooms, spaces dedicated to graduate students and capstone projects, and new labs, including a sustainable living laboratory. LSU anticipates engineering enrollment of 7,000 students by fall semester 2017, up from 5,606 three years earlier.
Dartmouth's plans to expand its Thayer School of Engineering got a boost in May 2016 with a $25 million gift from alumnus Barry MacLean, CEO of manufacturing company MacLean-Fogg. Of the gift, $15 million is allocated to design and construction of a 180,000-square-foot building. The other $10 million will be a challenge grant to create endowed professorships. In the last 15 years, the number of joint engineering bachelor of arts/bachelor of engineering graduates has nearly doubled. Thayer plans to increase the size of its faculty with a focus on experiential learning in energy technology, engineering in medicine and entrepreneurship.