Fukushima Is "Wake-Up Call" to Improve Monitoring of Spent Fuel Pools: NAS
Engineering360 News Desk | June 01, 2016
The 2011 Fukushima Daiichi nuclear accident should serve as a wake-up call to U.S. nuclear plant operators and regulators on the importance of measuring, maintaining and restoring cooling in spent fuel pools during accidents and terrorist attacks, says a new report from the National Academies of Sciences, Engineering and Medicine.
The committee that issued the report, chaired by Joseph Shepherd, professor of aeronautics and mechanical engineering at the California Institute of Technology, found that spent fuel storage facilities—both pools used to store fuel underwater and casks used to dry-store fuel—at the Fukushima Daiichi nuclear plant maintained their containment functions during and after the March 11, 2011 earthquake and tsunami. However, one of the two gates separating the Unit 3 spent fuel pool from the adjacent reactor well was damaged during the accident. Also, water appeared to have leaked around the gate seals in the Unit 4 spent fuel pool, allowing water to flow into the pool from the reactor well.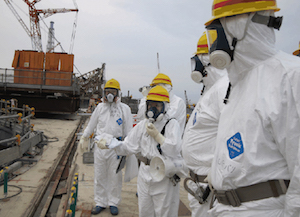 The 2011 meltdown at the Fukushima nuclear plant carries lessons for U.S. plant operators. Image credit: National Academy of Sciences, under a Creative Commons Attribution-NonCommercial-ShareAlike 2.0 Generic License.This water leak was accidental but also fortuitous, the report notes, because it replenished water lost from the Unit 4 pool by evaporation, likely preventing water levels from dropping to the tops of the racks where the spent fuel was being stored. Uncovering of the fuel would have substantially increased radiation levels above and around the pool, limiting personnel access to the pool and nearby areas, and could have resulted in severe damage to the fuel, increasing the potential for large radioactive material releases into the environment, the committee noted.
The committee recommended that improvements in U.S. plant operators' ability to measure conditions in spent fuel pools and maintain cooling of stored spent fuel during accidents and terrorist attacks should include hardened and redundant physical surveillance systems such as cameras; radiation, pool temperature and water-level monitors; and means to deliver makeup water or sprays to the pools, even when physical access is limited by facility damage or high radiation levels.
The report also recommends that nuclear plant operators and their regulators upgrade and/or protect nuclear plant security infrastructure and systems and train security personnel to cope with extreme external events and severe accidents. Such upgrades should include redundant and protected power sources dedicated to plant security systems that function independently if safety systems are damaged, as well as flexible approaches for coping with and reconstituting plant security infrastructure, systems and staffing during and following extreme external events and severe accidents.
The committee also determined that the U.S. Nuclear Regulatory Commission (NRC) has not yet analyzed the vulnerabilities of spent fuel pools to specific terrorist attack scenarios described in the 2004 Academies report—nor carried out an independent examination of surveillance and security measures for protecting stored spent fuel, as also recommended in that same report. It recommended that the NRC and nuclear industry strengthen their capabilities for identifying and managing the risks from terrorist attacks and that the NRC perform a spent fuel storage risk assessment that addresses both accident and sabotage risks for both pool and dry cask storage.