System Enables Independent Movement Despite Spinal Cord Injury
Riia O'Donnell | April 06, 2016
Designed by a team of engineers and commercialized by the Parker Hannifin Corp., the Indego-branded exoskeleton has won approval from the U.S. Food and Drug Administration (FDA) for clinical and personal use in the United States.
The exoskeleton, which costs $80,000 and may be available through insurance, will allow persons who are paralyzed below the waist to stand and walk independently. Indego spent 10 years in development and was brought to market in three years. With FDA approval, clinics and consumers will now be allowed to purchase the system for private or facility use.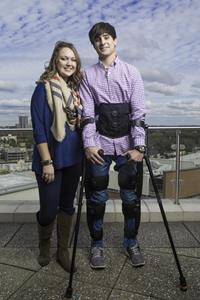 Independence for people with paraplegia. Image source: Parker HannifinThe exoskeleton wraps around the torso, with rigid supports strapped to the legs from the hip to the knee and the knee to the foot. The device is driven by computer-controlled motors in the hip and knee joints powered by batteries. Patients use crutches or walkers to maintain their balance.
The system works when the user leans into it: by leaning forward the skeleton walks forward, by leaning backwards it stops. Leaning backwards also allows the user to sit. Conversely, from a sitting position, leaning forward allows the user to stand upright.
The system uses the type of small gyro-chips used to rotate images on cellphone screens from vertical to horizontal to keep the user from veering off course. Indego also vibrates to signal users that it senses changing speed or position.
The entire system weighs 26 pounds, is self-contained and has no wires or cables that run down its length. It was designed to be put on by the user while still seated and without assistance. The system's lithium ion battery life is four hours. A multi-year study, funded by the U.S. Department of Defense, will determine whether there are tangible economic and rehabilitation benefits of the use of exoskeletons for people with spinal cord injuries, who can develop medical conditions as a result of wheelchair confinement.