Wastewater Uses Drive Demand Growth for Centrifugal Pumps
Engineering360 News Desk | March 09, 2016
Analysts at Sandler Research expect the global centrifugal pumps market to grow at a compound average growth rate (CAGR) of 4.15 percent from 2016 to 2020, thanks primarily to the water and wastewater industry.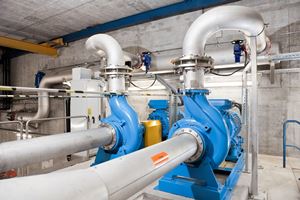 Global market for centrifugal pumps is predicted to grow at a compound average growth rate of 4.15% from 2016 to 2020.
Fueling that market's expansion, says a Sandler research report, are rising population, urbanization, growth in manufacturing activities and activity in the oil and gas industry. Demand for water in power, pharmaceuticals and food and beverage also plays a role in the expanding market.
The report cites 3D printing, combined with advances in modeling software, as helping to reduce the overall cost of pump repair, replacement and design. For example, the report cites the FDM (fused deposition modeling) printing of impellers from PLA (polylactic acid). Compared to traditionally manufactured impellers, 3D-printed impellers can deliver increased flow rate and outlet pressure without adding strain to the motor.
Overall, by 2020 Sandler Research predicts that the water and wastewater end-user segment for centrifugal pumps will claim a market share of more than 35 percent, the largest single market segment.