High-Rise Buildings Assembled "Lego-Style" in Singapore
By Engineering360 News Desk | March 01, 2016
Three residential halls at Singapore's Nanyang Technological University (NTU) are being constructed using a new "Lego-style" construction method that allows prefabricated individual rooms to be stacked on top of each other. The 13-storey-high buildings constitute the first public high-rise development in Singapore to be constructed in this manner, with whole rooms—complete with internal fixtures such as lighting, windows and fans—built at a factory and then assembled on-site.
Known as prefabricated pre-finished volumetric construction (PPVC), this building method can save up to 40% in manpower and 20% in construction time, according to NTU. It also reduces noise and dust pollution on-site, as more activities are done remotely.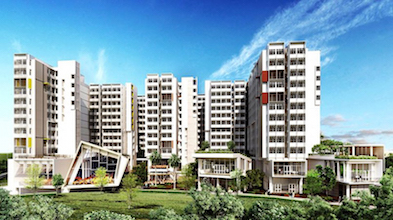 NTU's residential halls are the first public high-rises in Singapore to use PPVC building methods. Image credit: Nanyang Technological University.The 1,660-unit student hostel and apartment accommodation is also the first public high-rise PPVC project in the country to be designed and constructed using Building Information Modeling (BIM), which allows project designers to construct a 3D model in advance to ensure that architectural, mechanical, electrical and structural systems will integrate feasibly. BIM was utilized from design through fabrication and assembly of the PPVC modules.
Although the units are being built at the factory using relatively traditional prefab construction methods, NTU has plans to use PPVC with 3D printing technologies in the future. The university's Singapore Centre for 3D Printing was founded with $100 million in government funding and plans are to develop large-enough printers, and a method for printing concrete, to allow 3D printing of such units in the future.
Use of PPVC, BIM and 3D printing in Singapore's building industry is part of a concerted effort by the city-state to capture efficiencies required to meet anticipated construction demand amid a tightening labor supply. Singapore's aging populace, combined with increased foreign worker levies, has put a premium on the use of technology to enhance laborers' productivity.
In addition to enabling faster construction, the methods also allow for the easy incorporation of sustainable building features, another emerging priority of the Singapore government. Among the green features of the NTU residential halls:
· Using computer modeling of on-site weather patterns, designers were able to harness local winds to ventilate students' living spaces.
· To reduce the need for air-conditioning, all rooms in the residential halls have windows that reflect heat using a special coating and louvers that shield them from the sun.