Seaweed Gel Preserves Stem Cells for Use in Bandage
Engineering360 News Desk | February 16, 2016
Stem cells have been put into plasters and bandages to help heal wounds.
The method, developed by scientists at Newcastle University in the UK, encases stem cells in an alginate gel made from seaweed, which makes them practical to use, adaptable and easy to store at room temperature.
"The stem cells are surrounded by an alginate gel that protects them from the environment—a bit like frogspawn," says Che Connon, professor of tissue engineering at Newcastle University. "We found them unchanged even after three days at room temperature."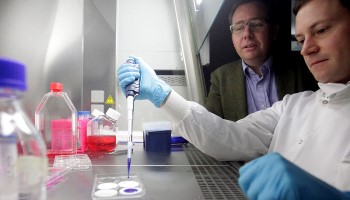 Encasing stem cells in an alginate gel prolongs their life by up to three days at ambient temperatures. Image credit: Newcastle University.While scientific evidence shows that stem cells from fatty tissue can be used to improve wound healing by reducing inflammation and speeding up wound closure, stem cells have had to be stored and handled by experts under specialized conditions, limiting their practical use.
Rather than keeping them at 37 degrees Celsius in atmospheric oxygen and 5% carbon dioxide, encasing the stem cells in an alginate gel has been shown to prolong their life for up to three days at ambient temperatures. This offers a possible solution to many of the challenges of transporting cell cultures.
The stem cells are first grown from the standard frozen form and then mixed into the alginate solution. This is extracted from a brown algae seaweed that is commonly used in food and medical applications.
"This can [be] dropped into a vial of calcium chloride, which forms cross-links making the alginate set, forming tiny beads," says researcher Dr. Stephen Swioklo. "Or the gel can be placed into a mold to form a film, which sets in a couple of minutes."
According to Swioklo, a circular disc one inch in diameter effectively preserved one million stem cells "and could easily contain up to 10 million."
The "Stem-gell" bandage, as it has been dubbed, could help treat people at the scene of an accident or soldiers on a battlefield. The scientists are working to scale up the bandage and place it into the clinic for trials.