Stainless steel AC inverter-duty gearmotors are rated IP-69K
S. Himmelstein | November 20, 2023
New type 56R1-50JW/H stainless-steel hollow-shaft gearmotors from Bodine Electric Company are rated for IP-69K and designed to operate in wet, dusty, washdown environments, or where equipment is subject to particularly intensive high-pressure cleaning such as in food or pharmaceutical manufacturing facilities.
These geared motors combine a stainless-steel AC inverter-duty, 230 V AC/460 V AC motor with a stainless-steel hollow-shaft gearhead. When used with an AC inverter control, these units deliver variable speed and maintenance free operation over a wide speed range. Ideal for equipment subjected to intensive cleaning, these new gearmotors also meet EU hygienic standards for food machinery.
Designed to withstand constant exposure to high-pressure washdowns, the 56R1-50JW/H gearmotors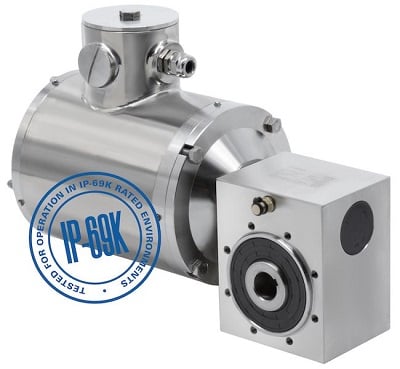 Source: Bodine Electric Company feature high-grade, corrosion resistant stainless-steel housings and are fully watertight. A smooth surface allows thorough and efficient cleaning, reducing the possibility of bacteria growth. The totally enclosed, non-ventilated motor prevents airborne re-contamination caused by air movement from a cooling fan.
The gearmotors achieve up to 637 lb-in. (72 Nm) torque and speeds from 29 rpm to 176 rpm. The sealed gearmotor is available with gear ratios from 10:1 to 60:1 and uses food-grade lubricant. Designed to optimize mounting space, simplify installation and reduce the number of required parts, the units can be connected directly to the driven load, eliminating expensive shaft couplings and mounting hardware that can be unsafe, bulky and present alignment issues.