MarqMetrix launches Single-Use BioReactor BallProbe for pharma and biopharma industries
GlobalSpec News Desk | May 24, 2023
MarqMetrix, a developer of Raman spectroscopy solutions for the pharmaceutical and biopharmaceutical industries and emerging industrial fermentation market, has unveiled its new Single-Use BioReactor BallProbe. Designed to protect high-value batches from contamination, the Single-Use BioReactor BallProbe provides accurate and repeatable Raman measurement of liquids and solids without compromising the batch's purity.
The introduction of the Single-Use BioReactor BallProbe comes in response to the increasing implementation of single-use solutions in the biopharmaceutical industry and growing customer demand for solutions that enhance efficiency, reduce costs and minimize contamination risks.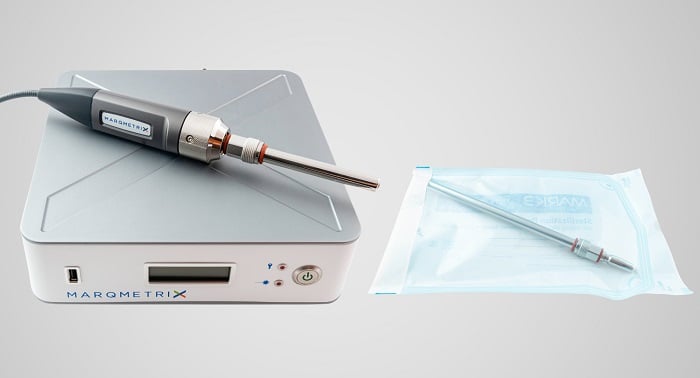 Source: MarqMetrix
According to Brian Marquardt, MarqMetrix's founder and CEO, "The Single-Use BioReactor BallProbe is not only an essential tool for ensuring batch purity, but it also saves time and money by eliminating the need for time-consuming and expensive cleaning and validation procedures. By providing end-users with confidence in the safety and purity of their end product, the Single-Use BioReactor BallProbe adds significant value to the biopharmaceutical and pharmaceutical manufacturing process."
Made from sanitary finished (15Ra) 316 stainless steel and high-purity sapphire optics, the device is engineered to meet the requirements of the bioprocessing industry. The probe is packaged in tear away bags, making it easy to sterilize via autoclave, ethylene oxide or integrated into larger single-use systems and gamma sterilized. Once the process is complete, the probe can be disposed of to ensure batch purity.
The probe is compatible with standard Pg13.5 ports and matches the industry standard design of dissolved oxygen bioprocess probes, with 12 mm diameter and 220 mm and 120 mm immersion lengths. The standard configuration includes a welded flange that prevents the probe from backing out of the port. Integrators can also customize the probe to suit their unique requirements.
The Single-Use BioReactor BallProbe is easily coupled to the MarqMetrix FiberHeadSU — the fiber optic interface to the MarqMetrix All-In-One Raman analyzer. The newly designed FiberHeadSU has a proprietary fitting that makes securely attaching and detaching the Single-Use BallProbe a breeze. End users must have a FiberHeadSU to use Single-Use BallProbes (standard FiberHeads can be converted to the FiberHeadSU model).