Video: An Arctic appraisal of hydrogen-fueled trucks
S. Himmelstein | May 12, 2023
Volvo Trucks is demonstrating the cold truth about its hydrogen-powered fuel cell trucks by putting them through their paces on public roads in driving tests conducted above the Arctic Circle.
Equipped with dual fuel cells capable of generating 300 kW of electric power, these vehicles have already navigated successfully through initial cold climate driving trials. The current trips in the north of Sweden showcase their utility in completing long transport assignments under adverse weather conditions and in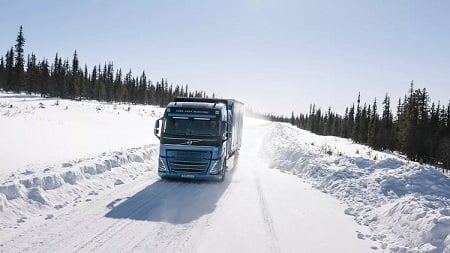 The harsh conditions on public roads in northern Sweden make an ideal testing environment. Source: Volvo Trucks regions lacking battery charging infrastructure.
"Trucks are operating seven days a week and in all types of weather. The harsh conditions on public roads in northern Sweden, with ice, wind and lots of snow, make an ideal testing environment," said Helena Alsiö, VP powertrain product management at Volvo Trucks. "I am pleased to say that the tests are going well, confirming tests we carried out beforehand, both digitally and on our confined test track close to Gothenburg."
The fuel cell electric trucks are expected to have an operational range comparable to many diesel trucks – up to 1,000 km – and a refueling time of less than 15 minutes. Following additional on-road tests, these heavy-duty vehicles will be made commercially available, joining the lineup of zero-emission battery electric models from Volvo.