No need to be rough to be strong with this spray gun
GlobalSpec News Desk | May 10, 2023
Sames North America has launched an evolution of the current SFlow Airless gun: the NEW SFlow 7/8 inch Universal.
The spray gun is available in both 275 bar (4,000 psi) and 470 bar (6,820 psi) versions with two- and four-finger triggers. The ergonomic design offers flexibility in extreme conditions and is ideal for handling high solid content paints and high rich zinc primers.
The SFlow 7/8 inch Universal body will now have 7/8 inch threads with new tip bases making it common to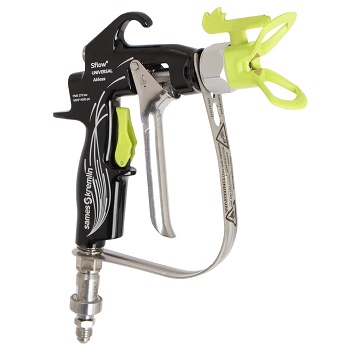 Source: Sames North America the industry and allowing the use of competition tips.
This version will have new part numbers addressing different fluid pressures, both two- and four-finger triggers, and fluid inlet sizes (1/4 inch NPS and 1/2 inch JIC). The previous version SFlow will still be available with the 25 x 175 threaded body and tip bases.
Benefits:
• High transfer efficiency of 81%
• Good atomization quality
• 7/8 inch Universal front thread tip guard