A scheme to strengthen the role of wetlands in water management
S. Himmelstein | May 25, 2023
A new classification system for wetland connectivity is designed to strengthen protection of these ecosystems and improve water quality and management throughout the U.S.
The connectivity from wetlands to downstream systems provides the pathways for energy and material transport to downstream waters. To clarify these linkages and transport mechanisms, researchers from the University of Toronto, U.S. Environmental Protection Agency (EPA) and the University of South Florida categorized freshwater wetlands into four classes based on their proximity to streams and whether water flows between them at or below the surface. This structural classification system can be applied to demonstrate the role of wetlands in controlling a stream's water quality.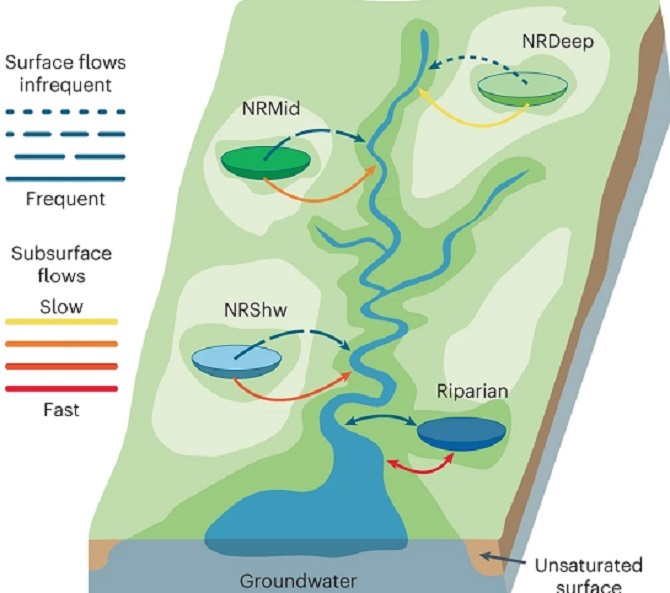 The scheme recognizes four connectivity classes: riparian, non-riparian shallow (NRShw), non-riparian mid-depth (NRMid) and non-riparian deep (NRDeep). Source: Nat Water 1, 370–380 (2023)
The EPA plans to make the classification system outlined in Nature Water available for researchers to download and use. In addition to its impact on water quality, the system provides researchers and resource managers insight into improved methods for spatially targeting wetland restoration and protection.
"Until now, there hasn't been a way to classify how wetlands connect to other waters at large scales," said Scott Leibowitz, EPA research ecologist. "This has limited our ability to understand how wetland connectivity might contribute to water quality in watersheds."