Businesses Lose $700B a Year to IT Downtime
Engineering360 News Desk | January 27, 2016
Information and communication technology (ICT) downtime costs North American organizations $700 billion per year, according to a new survey released by IHS. The research explores the frequency, length, cost and causes of ICT downtime as a result of server, application and network outages or degradations.
"Our research found that the cost of ICT downtime is substantial, from $1 million a year for a typical mid-size company to over $60 million for a large enterprise," says Matthias Machowinski, research director for enterprise networks and video at IHS.
Machowinski says the main cost of downtime is lost productivity and revenue. "Fixing the problem is a minor cost factor, which means a small investment in increasing the reliability of ICT systems will provide an outsized return by reducing productivity and revenue losses," he says.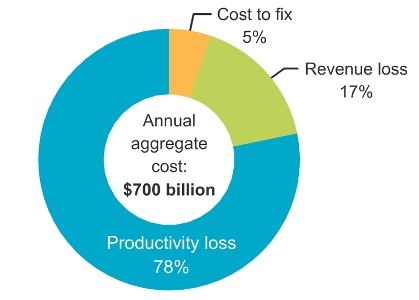 Employee productivity losses are responsible for most of the business costs. Image credit: IHS. Among the survey's major findings—which was based on responses from IT decision-makers at 400 medium and large organizations in North America that use ICT such as ERP systems, databases, email and VOIP systems—are:
Network interruptions are the biggest culprit of downtime and have far-reaching consequences: applications, servers and devices all may continue to operate, but they can't communicate with each other when the network is down.
On average, survey respondents experience 5 downtime events totaling 27 hours per month.
Organizations are making changes to reduce the impact of downtime, from investing in early-detection capabilities to improving redundancy, training and hiring new people to implementing backup processes that don't rely on ICT systems.