Snow Removal Just the Tip of a Storm's Economic Costs
Engineering360 News Desk | January 27, 2016
While the economic impact of Winter Storm Jonas won't be known for months, the National Oceanic and Atmospheric Administration (NOAA) has ranked the event as the sixth-worst snowstorm to hit the northeast U.S. since 1900. The mid-January storm is comparable to the "Snowmageddon" storm that hit the mid-Atlantic region in February 2010 and cost hundreds of millions of dollars.
NOAA's Regional Snowfall Index ranks snowstorm impacts on a scale from 1 to 5, taking into account the spatial extent of the storm, the amount of snowfall and the juxtaposition of these elements with population. Jonas was a category 4, which NOAA terms a "crippling" event.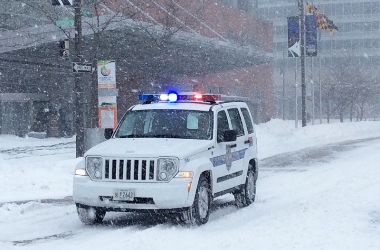 Downtown Baltimore during Winter Storm Jonas. Image credit: City of Baltimore. Record snowfalls were recorded at several points along the eastern seaboard, including the LaGuardia, JFK and BWI airports. Those airports, as well as Washington Dulles, Newark Liberty and Philadelphia, halted flights entirely for portions of the storm. Nationwide, more than 13,000 flights were cancelled due to the weather, according to the flight-tracking website Flightaware.com.
High winds and the effects of a full moon (on January 24) led to record-high water levels at three locations along the New Jersey coastline. Flooding damaged homes and businesses in a number of communities along the Jersey Shore that were also hit by 2012's Hurricane Sandy.
In New York City, which received more than 30 inches of snow in some locations, the comptroller announced that in fiscal year 2015 it cost the city $2.5 million per inch to remove snow. But, as noted in a study performed by IHS for the American Highway Users Alliance, snow removal is only a small part of the overall cost of a major snowstorm.
Among the conclusions of the report were that:
Among all economic classes, snow-related shutdowns harm hourly workers the most, accounting for almost two-thirds of direct economic losses. These losses result in lost tax revenue at the federal and local levels.
The indirect economic impacts of snow-related shutdowns, including loss of retail sales and income and sales tax revenues, roughly double the initial economic impact. Sales lost due to a widespread snowstorm that would not be recouped subsequently include purchases from gasoline stations, department stores and other general merchandise stores.
In addition to the direct loss of income and sales, there is an indirect, "derived" component that ripples through the economy, as lost retail sales cause companies and employees alike to curb subsequent purchasing activity.