Video: Spray cooling takes the heat out of data centers
S. Himmelstein | May 17, 2023
Energy-intensive air-conditioning systems are used in data centers to dissipate the heat generated by central processing units (CPUs) and vertically stacked servers. A more sustainable cooling solution was developed at Nanyang Technological University, Singapore, to reduce energy demands for such applications and their associated carbon footprint.
No heat sink is needed in the new system, which sprays non-conductive fluids to cool the CPU. An enclosed system collects and condenses the gases and excess fluids to be reused in a design that removes more heat than conventional air-cooling technology. The CPU can operate faster and more efficiently despite the higher temperatures generated by higher data processing speeds.
The waste heat generated by data centers is estimated to be around 7kW/m3 in conventional air-cooled racks. The spray-cooling prototype has been demonstrated to dissipate significantly more heat and to handle rack densities as high as 23 kW/m3.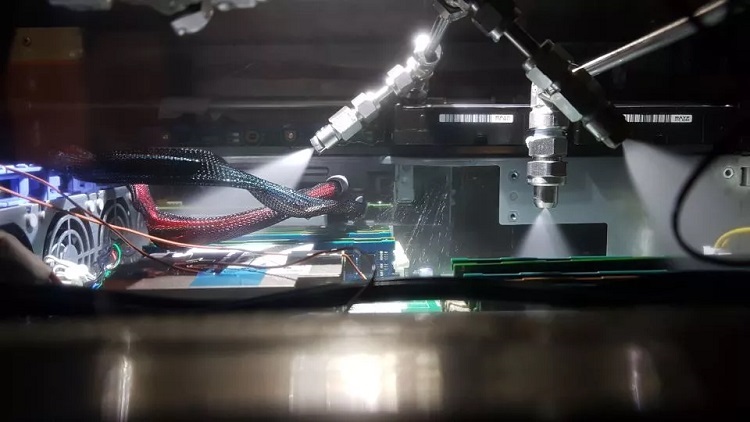 The spray cooling prototype is placed over server racks. Source: Nanyang Technological University
In addition to a 26% savings in annual energy costs, this cooling approach that targets the heat-emitting CPUs could save up to 1,550 tons of carbon dioxide emissions annually, based on a data center information technology load of 1 MW, compared to conventional air-cooling systems.