Video: Amphibious ship to service offshore wind farms
S. Himmelstein | March 13, 2023
A newly engineered amphibious vessel is now servicing the 60 MW Scroby Sands wind farm operated by RWE off the coast of Norfolk, U.K. The CRC Walrus is designed to access this and other offshore facilities in shallow, coastal locations prone to seabed erosion conditions that prevent the approach of more conventional vessels.
The new craft designed and operated by Commercial Rib Charter Ltd. Is equipped with three 40-inch off-road tires provided with individual hydraulic motors and powered by a 37 kW inboard hydraulic power unit. The 12-m vessel has a 1,000 kg cargo capacity and is capable of safely transferring eight technicians and two crew to any of the turbines within the Scroby Sands array, including on the raised sandbank.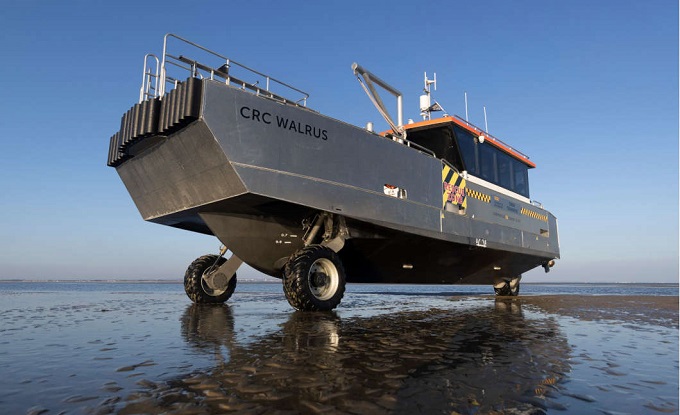 Source: Commercial Rib Charter
During its maiden voyage in early January 2023, the CRC Walrus achieved speeds of 24 knots on water and 6 km/hour on land. The vessel has been working onsite successfully since early February and trials continue in order to further optimize its operation and performance.