Why it's tough to believe the story of "El Milagro," the miracle that saved Ferrari
Daniel Strohl, Hemmings Motor News | March 06, 2023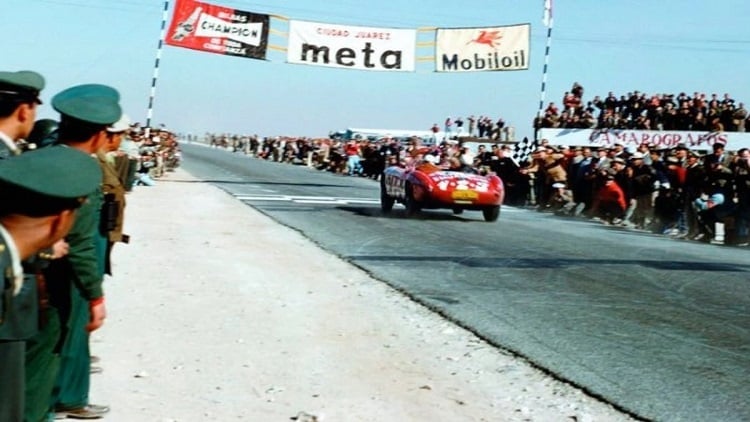 Source: La Carrera Panamericana
Taller El Milagro may or may not be an isolated garage along the Panamerican Highway, maybe somewhere between Leon and Durango or maybe somewhere farther north, toward Ciudad Juarez. It may even be where a mechanic sips bottles of Coca-Cola and deals in homespun fixes and old-timers' tricks to repair the vehicles that have somehow labored out to his workshop on their last legs. However, it almost certainly is not the nexus where the fortunes of Ferrari were made on a single day during the 1954 running of La Carrera Panamericana, despite what a viral story making the rounds would have you believe.
Like any good myth, there's some truth to the story of El Milagro, perhaps many minor truths sprinkled throughout. Ferrari's record in the original Panamericana races - along with many other motorsports successes - did indeed play an important role in the company's growth during the Fifties. Umberto Maglioli did indeed win the 1954 race in a Ferrari 375 Plus, and he did indeed overcome some difficulties in the race. But it's those truths mixed in with the fantasies and fabrications and the tale's bold claims that have perhaps led people to skip on the fact checking before repeating the story.
If you haven't already encountered the story of El Milagro, some quick googling will turn it up, both in English and en Español. As artist Felix Hernandez tells it, Maglioli finds his Ferrari beginning to fail during the race. Out of hope and out in the middle of nowhere, he finds a one-car garage called "El Milagro," staffed by Renato Martinez, who diagnoses the car with an oil leak in the crankcase. Martinez tells Maglioli not to worry and to drink a few Cokes while he fixes the car using a bar of soap. Maglioli thanks Martinez, takes the time to snap a picture of Martinez, the Ferrari, and the garage, then zooms off to win the race, make headlines for Ferrari in the U.S., and ensure not only the company's success in the U.S. market but also its place in automotive history.
There's a few holes we can poke in this story with some basic research, starting with the significance of the 1954 Carrera Panamericana to Ferrari's fortunes.
Did Maglioli's 1954 win save Ferrari?
In a word, no.
While Ferrari could still be considered a fledgling carmaker in 1954 - it built just 58 customer cars that year - it was hardly in need of saving. As Luca Dal Monte noted in his biography of Enzo Ferrari, the company's Maranello plant expanded substantially that year in part to implement Enzo Ferrari's plans "for a wider and ever more complete road-going model range."
While any number of factors could have been - and have been - cited for the success of Ferrari in the dynamic and complex postwar American car market, the two most common are Luigi Chinetti, the Enzo Ferrari confidant who not only convinced Ferrari to build road cars in the first place but also served as Ferrari's importer for the U.S., and the 1951 running of La Carrera Panamericana. In the latter, a pair of Vignale-bodied Ferrari 212 coupes driven by Piero Taruffi and Alberto Ascari (and co-piloted by Chinetti and Luigi Villoresi) took first and second place overall. As Brian Laban noted in "Ferrari: The Legend on the Road," "Ferrari would mainly offer his bigger engined cars to America, but the role of that (1951) win in convincing the U.S. market of Ferrari's credentials was far greater and far more important than any number of European victories."
The 1954 win certainly did not hurt Chinetti's efforts, but he likely wouldn't have starved without it.
Did Maglioli stop for a major repair?
While Chinetti, Phil Hill, Richie Ginther, Jack McAfee and many others would race Ferraris to varying degrees of success in La Carrera Panamericana, it was Maglioli who perhaps made best use of the cars in that race. He first drove in La Carrera Panamericana in 1952 in a supercharged Lancia Aurelia B20, coming in fourth, then returned in a Ferrari 375 MM Berlinetta a year later. His own car DNF'd partway through the race due to a failed wheel bearing, but he took over Mario Ricci's Ferrari and wrestled it up from ninth to sixth place overall after setting an average speed in the final leg of the race of 132.7 mph, "a record average speed for a road race that has never been surpassed," according to Johnny Tipler's "La Carrera Panamericana: The World's Greatest Road Race."
As a result, good things were expected of Maglioli for the 1954 race. He showed up in a Ferrari 375 Plus (serial number 0392 AM, entered as car no. 19), a car powered by a 350 hp 4.9-liter V-12 and reportedly good for a 175 mph top speed. Curiously, he chose to drive sans co-piloto, figuring that the weight savings would give him an edge. McAfee also entered a 375 Plus, but Maglioli's main rival in the race was expected to be Hill and Ginther in a Ferrari 375MM with a smaller 4.5-liter V-12 and lighter Vignale body. Hill did take an early lead, largely because Maglioli had to change all four tires himself at pit stops, but Maglioli hung in close behind Hill, finishing the first day just over four minutes behind and the second day 30 seconds behind. On the third day, Maglioli took the lead from Hill and never relented, as Tipler wrote:
"Maglioli had started out from Tuxtla-Gutiérrez with a certain restraint, partly due to the constant pleading of Luigi Chinetti who had already sold the car, and partly because he preferred to sit back early on, knowing that the course could break his rivals en route. When he won the second leg but still arrived at Mexico City 38 seconds behind Phil Hill, the race was on. From Mexico City onwards Maglioli attacked, winning all the legs except the last one, reaching Ciudad Juarez with a lead of more than 20 minutes over Phil Hill's Ferrari which had been hampered by drivetrain ailments on the fifth leg. Maglioli covered the 1909 miles in 17h 40m 26s, raising the new record average speed to 107.99 mph."
That's a blazing fast time, particularly compared to Hill's 18 hours, four minutes, and 50 seconds, which would have won any of the prior iterations of the race. Tipler makes no mention of Maglioli's supposed troubles with oil loss. For that matter, neither does John Bentley's coverage of the race for Sports IllustratedSports Illustrated or Boyd Harnell, who related his first-person account of the race to Forza magazine, or Ferrari itself. And if Maglioli indeed had to stop at a garage for what would have been something like a half-hour or longer pause in the race (how long does it take to down three Cokes), made all the more leisurely by snapping a photo of the garage and the mechanic, that meant he had to push his car even harder than the official results indicate just to maintain that 24-minute lead over Hill.
And perhaps he did. According to Jim Weed, the editor of the Ferrari Market Letter, stories of the race that have circulated among ferrarista since before the recent viral story claim that Maglioli's Ferrari was losing oil at one point during the race and he did stop at "a little shop in the middle of nowhere" for a repair to stop the leak, though details of the stop are thin. Maybe Maglioli pushed his Ferrari so hard in the later stages because he felt he had to make up for the time lost to such a repair? Maybe it was just another obstacle he had to surmount in addition to changing tires himself and an inflamed eye that some accounts claim he had to battle during the race?
Can soap repair an engine block?
For many, the hardest part of the story to believe might just be Martinez's bar-of-soap repair. Hernandez's telling of the story has Martinez disassembling the Ferrari and then gradually rubbing the crankcase with the bar of soap. "By friction the soap melted and created a paste that sealed the leak hole," Hernandez wrote. "The soap 'cut' the oil and adhered to the metal of the crankcase and when solidified it turned as hard as a rock."
We've all heard of bush mechanics' solutions to keeping a car on the road, if just to get it home. There's the mashed bananas in the crankcase that, according to legend, helped Jacques Seguela and J.C. Baudot continue on their round-the-world trip in a Citroen 2CV. Black pepper or an egg in the radiator to seal holes in the cooling system. Leather belt in place of a spun bearing. Warming a dead battery by a campfire to get it to revive it. But using soap to repair an engine block is something not even the well-versed mechanics we polled had heard of.
"My b.s. meter is pegged to the right," said Ray Bohacz, longtime tech columnist for Hemmings Muscle Machines. "I cannot see how that could work whatsoever. If friction will melt the soap in the first place, the engine heat will melt it in a heartbeat. You might as well put duct tape on it."
About the only thing the soap would do, Bohacz said, is clear out the oil on the block or in the crack to allow a more substantial fix - either via brazing or welding - to hold.
(We'll note that we have seen and heard of soap used in a similar fashion to repair punctures in gas tanks. Given that and the fact that Hernandez's story initially cites a leak in the "carter," one might assume the story confuses a fuel leak in the carburetor for an oil leak in the engine. However, carter is Spanish for "sump," and the story consistently focuses on a leak in the engine crankcase.)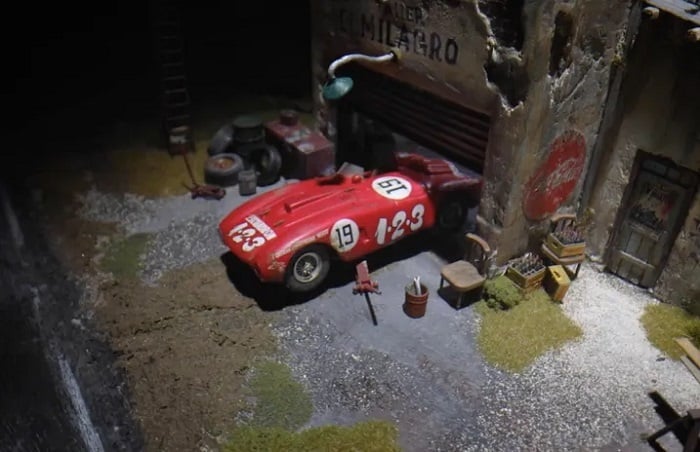 Source: Felix Hernandez
Weed notes that the story that has long circulated among Ferrari fans didn't specifically note what the mechanic did to repair Maglioli's car, but some versions repeated a rumor that soap was used. "Unlike today's soap Lye soap is hard and I'm sure if it was mixed with dirt/metal shavings it could be forced into a crack and made to seal," he said.
We'll note here that the origins of the soap story may very well derive from Maglioli's sponsor, Industrias 1-2-3, a Mexican company that sold cleaning products. Whether the company had any hand in spreading the tale, company executives likely wouldn't have minded the additional publicity.
Whatever the case, if Martinez did indeed patch a hole in the Ferrari's engine with a bar of soap, it had to have been a hole easily accessed without tearing down the engine. La Carrera Panamericana rules were strict on keeping the cars stock and keeping the engines sealed for the race. As Tipler wrote, "bilingual signs were posted in the paddock warning 'Don't attempt the smallest deviation from stock. It's unsportsmanlike, and anyway, we'll trap you at the finish.'"
We've reached out to the restorer and the current owner of Maglioli's car to see if any such repair has been spotted on the car in the years since.
So where'd the story come from?
As Weed indicated above, the story about Maglioli's stop in the middle of nowhere has been around for a while. It's only gained traction on social media recently thanks to Hernandez, who posted the story to his website in January as part of a photography project that involves a diorama of Martinez's shop, a model of Maglioli's Ferrari, and the superimposition of the artwork's buyer onto a photo of the diorama. According to Hernandez, the story of El Milagro was told to him by an unnamed man either over a glass of whisky in a London bar or while on the way to Boston (he claims both); Hernandez called the man "peculiar" in an email to us about the story, but did not respond to a request to provide any more information on the source of his story.
Some parts of the story, as discussed above, could be true or close to true, and Hernandez or his mystery source could very well have heard the same story that Weed has heard in years past. Other parts, like Martinez and the name of his shop, appear more the result of artistic license taken to tell a more spectacular story. Taller El Milagro, after all, is not a name one typically gives to an out-of-the-way garage; rather, it's Spanish for "the miracle workshop," an all-too-coincidental name for the place where a mythological miracle supposedly saved Ferrari.
---
Editor's note: This article originally appeared on Hemmings Motor News.