Double-duty membrane produces power, filters water
S. Himmelstein | March 17, 2023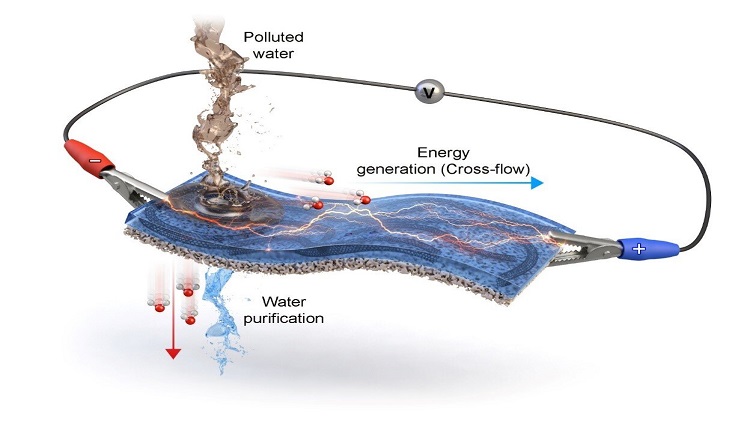 Schematic depicting the operation of the electricity generation and water purification membrane. Source: KIST
The production of treated potable water and electricity coincide with new technology developed in South Korea. An advanced membrane designed by researchers from Korea Institute of Science and Technology (KIST), Korea Advanced Institute of Science and Technology and Myongji University simultaneously yields drinking water and generates continuous electricity from sewage/wastewater, seawater, and groundwater and other water resources.
Composed of carbon nanotubes and a poly(acrylic acid)/carboxymethyl cellulose polymer binder, the porous membrane filters water at the bottom while the conductive polymer generates electricity at the top. Water flowing perpendicularly to the membrane generates direct current by the movement of ions in a horizontal direction. The membrane can reject more than 95% of the contaminants of sizes less than 10 nm, including microplastics and heavy metal particles in wastewater. Continuous electricity can be generated for more than three hours with only 10 microliters of water.
As the membrane system detailed in Advanced Materials can be fabricated with a simple printing process without size restrictions, it offers scope for cost-effective commercial deployment.