New Swagelok ALD7 UHP valve enables semiconductor manufacturers to improve chip yield
Diana Aoun | March 10, 2023
Swagelok recently announced the release of the Swagelok ALD7 ultrahigh-purity (UHP) diaphragm valve, capable of delivering the high performance necessary for semiconductor fabricators to improve chip yields. The valve provides the flow consistency and capacity, actuator speed, temperature rating and cleanliness required to maximize chip throughput in new or existing semiconductor manufacturing tools.
ALD7 valves can be integrated into either new tools or existing equipment for improved flow capacity in the same 1.5 inch (38.1 mm) footprint as traditional valves. This semiconductor valve delivers precise dosing over the course of millions of cycles in even the most demanding atomic layer deposition applications. Enhanced actuator technology allows the ALD7 to operate faster than industry-standard technology, with a response time as low as 5 ms. The actuator is immersible to 150° C (302° F) and the valve body is rated to 200° C (392° F), providing flow consistency at high temperatures and under vacuum conditions. This gives fabricators the control needed to maximize throughput and yield.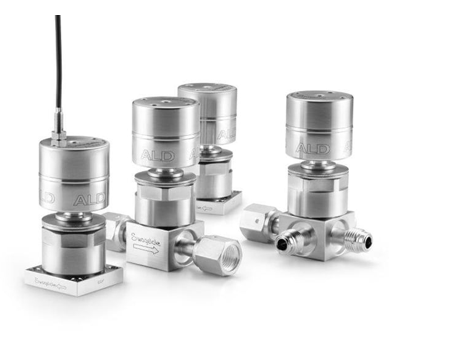 Source: Swagelok
Thanks to its compact design with an integrated thermal isolator, the ALD7 enables designers to maximize limited space near the reaction chamber of chip production tools. A valve body comprised of proprietary ultrahigh-purity Swagelok 316L VIM-VAR stainless steel provides the ALD7 with resistance to corrosive gases. As a result, the ALD7 provides semiconductor tool manufacturers with consistent performance under variable process conditions, enhancing productivity without increasing operating costs.
The ALD7 is available in a modular surface-mount configuration with a high-flow C-seal or in straight configurations with a tube butt weld, and Swagelok VCR face seal fitting end connections. Optional high-temperature electronic position sensors, optical position sensors or solenoid pilot valve configurations are also available.