Report: The state of state water efficiency policies
S. Himmelstein | March 06, 2023
State-level progress in advancing water use efficiency and conservation is gauged in the 2022 U.S. State Policy Scorecard for Water Efficiency and Sustainability (Scorecard) issued by Alliance for Water Efficiency (AWE). The analysis ranks each U.S. state based on its adoption and implementation of relevant laws and policies, with a focus on measures that relate to the residential, commercial, industrial and institutional sectors.
Each state completed a 23 question survey, which assessed whether certain water efficiency and sustainability laws and policies have been adopted, and points were earned based on responses. While some states improved since AWE's previous scorecard was released in 2017, the analysis found little progress overall, even as droughts and other climate change impacts increasingly undermine affordable, reliable water services. The average state score was only 23 out of 89 possible points.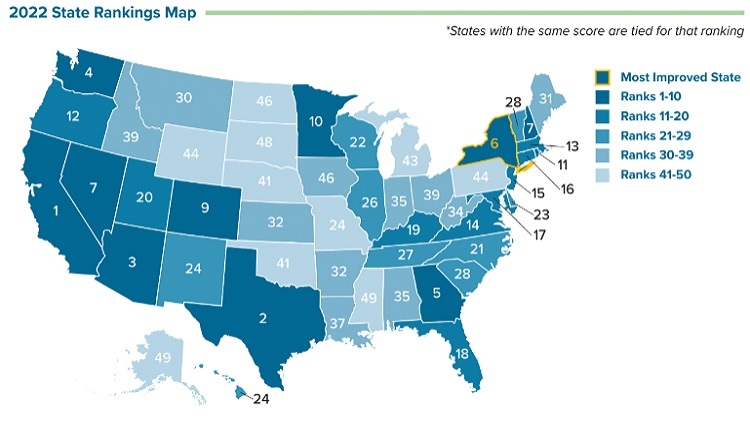 Source: AWE
The top-ranked state was California, followed by Texas, Arizona, Georgia, Washington, New York, Nevada, New Hampshire, Colorado and Minnesota. Other key findings include:
Connecticut was the only state that reported using its own funds to support customer water bill assistance
California is the only state that requires water utilities to plan for climate change
18 states use their own revenues to fund water efficiency and conservation
16 states provide funding for water reuse
13 states require rate structures that encourage water efficiency
19 states require coordination between local land use and water planning agencies
Despite the low scores, the research revealed some cause for optimism as 10 states adopted point-of-sale plumbing efficiency requirements since 2017 that go beyond federal standards, for a current total of 15 states plus the District of Columbia.