At Photonics West 2023: SABIC to highlight specialized thermoplastics to enable higher-bandwidth, lower-energy data centers
Engineering360 News Desk | January 24, 2023
Diversified chemicals manufacturer SABIC will showcase at Photonics West 2023, at booth #5512, its newest thermoplastic materials, which are well-suited for advanced optical components that support top industry trends, such as the migration to co-packaged optics and single-mode fiber optic systems. The company's specialty EXTEM and ULTEM thermo-optical resins, featuring exceptional near-infrared (IR) transparency and ultra-high-heat performance, can contribute to the improved speed, bandwidth capacity and energy efficiency of data centers.
At the show, SABIC will feature EXTEM RH1016UCL resin, which is a great candidate for lenses used in co-packaged optical transceivers, and ULTEM 3310TD resin for potential use in optical transceiver collimator lenses. These materials combine the productivity advantages of injection molding with solder reflow compatibility. A microscope will be available for visitors to view parts made with these materials, including aspherical test lenses and a mountable lens array with multi-fiber push-on connector pins. Also, SABIC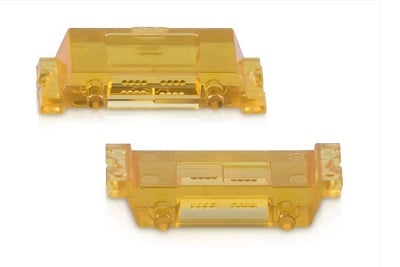 representatives will discuss upcoming materials with even higher near-IR transparency that enable the use of advanced assembly processes to boost productivity and reduce costs.
EXTEM RH1016UCL resin, launched globally in 2022, can withstand the 260° C peak temperature of printed circuit board (PCB) reflow soldering while maintaining the dimensional stability required of complex molded lenses and arrays. This innovative product can help customers transition from pluggable to co-packaged optics that move the optics much closer to the main switching application specific integrated circuit, thereby reducing power requirements and costs. ULTEM 3310TD resin, which also debuted in 2022, features a very low coefficient of thermal expansion, which can play a key role in maximizing the dimensional stability of collimator lenses and pinpointing alignment with single-mode fibers.
These materials can provide important advantages to the opto-electronics industry, including greater freedom to design very small and intricate components; new opportunities for part integration; and mass production of high-precision parts using micro-molding. SABIC's Optical Center of Excellence in the Netherlands offers advanced optical expertise and capabilities to support the full range of customer needs, from product design to production. Also, the company has developed a brochure featuring EXTEM and ULTEM solutions for potential use in optical interconnects and lenses.
Photonics West 2023 will take place January 31 to February 2 at the Moscone Center in San Francisco, California.