A magnetic means of capturing waterborne PFAS
S. Himmelstein | February 06, 2023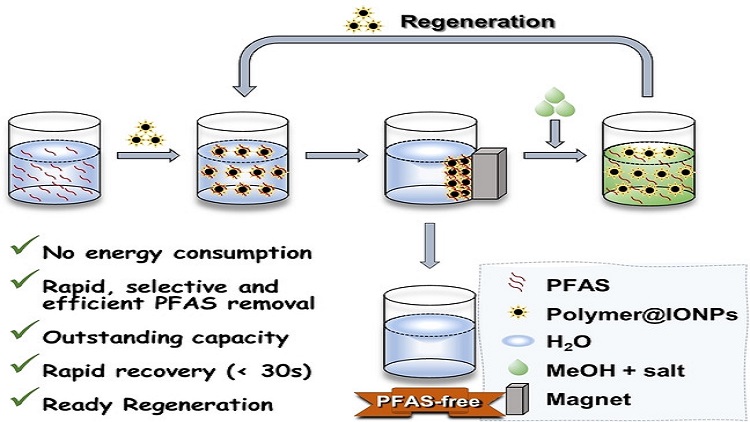 Schematic of the technology for PFAS capture. Source: Angewandte Chemie International Edition (2022). DOI: 10.1002/anie.202213071
A magnetic approach to the rapid and effective removal of per- and polyfluoroalkyl substances (PFAS) from contaminated water is being pioneered by researchers from the University of Queensland, Australia.
The removal of these persistent "forever" chemicals from water is effected by use of a newly engineered magnetic fluorinated polymer sorbent. Magnetic iron oxide nanoparticles were synthesized and grafted with a series of non-ionic or cationic poly(ethylene glycol)-perfluoropolyether-containing polymers. The resulting sorbent coats the PFAS particles, enabling use of a magnet to attract, isolate and remove the pollutants.
Regeneration of the sorbent up to four times was confirmed by conducting both sorption and desorption experiments over multiple cycles. The sorption of multiple PFAS and magnetic regeneration of the new sorbents works efficiently in ground water matrices at environmentally relevant concentration of 1 ppb. Greater than 95% removal of the ammonium salt of hexafluoropropylene oxide dimer acid was achieved within 30 seconds.
The research published in Angewandte Chemie International Edition underscores the potential of using fluorinated magnetic sorbents for the treatment of environmental PFAS-contaminated solutions. The technology is now being scaled up with the goal of developing a commercially available product in the next three years.