Watch the maiden flight of the world's largest hydrogen aircraft
S. Himmelstein | January 23, 2023
The largest aircraft in the world to be powered by a hydrogen-electric engine made its maiden flight on January 19, 2023, in the U.K. ZeroAvia's 19-seat Dornier 228 testbed aircraft, retrofitted with a full-size prototype hydrogen-electric powertrain on the left wing of the aircraft, completed a 10-minute flight that included a full pattern circuit.
The twin-engine aircraft was retrofitted to incorporate ZeroAvia's hydrogen-electric engine on its left wing, which then operated alongside a single Honeywell TPE-331 stock engine on the right. The cabin houses two fuel cell stacks and lithium-ion battery packs to provide peak power support during take-off and adding additional redundancy for safe testing. This onboard powertrain was fueled using compressed gaseous hydrogen produced with an on-site electrolyzer.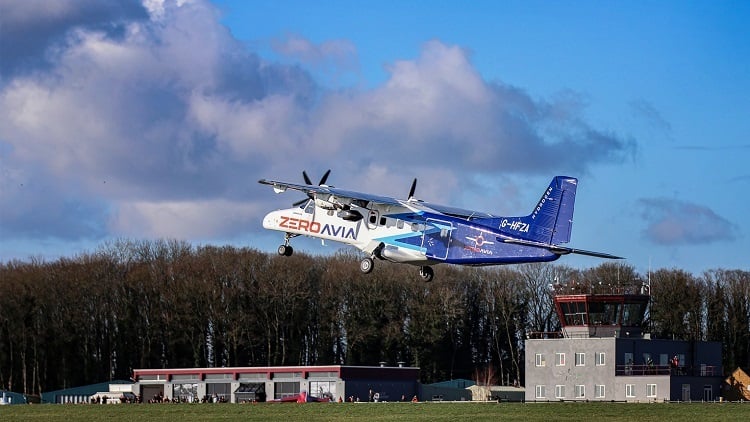 The 19-seat demonstrator completed its first test flight powered with a hydrogen-electric engine. Source: ZeroAvia
The company hopes to have this 600 kW powertrain fully certified and running commercial flights for nine-to-19-seat aircraft by 2025. This powertrain will deliver a range of around 345 miles (556 km), making it relevant to regional flights. ZeroAvia is working on a 2.5-MW powertrain for delivery and testing in 2026, designed for aircraft with up to 80 seats and a projected 1,150-mile (1,852 km) range.