New ZEDOX HEXO high-performance butterfly valve from ARI with innovative honeycomb disc design
Diana Aoun | January 27, 2023
ARI Armaturen has revealed the unique ZEDOX HEXO butterfly valve with a honeycomb disc design. Its world-first innovative design leads to significantly optimized KVS values that are up to 35% higher than those of standard high-performance valves, which enhances system efficiency and significantly reduces pressure losses. The new design also leads to a much calmer flow outlet of the valve, making it ideal for conditions where space is limited.
In contrast to centric butterfly valves, the double eccentric sealing principle of the ZEDOX (double shift of the pivot point) reduces the angle of the disc when it contacts the seat sealing ring and relieves that metallic sealing when opening. The HEXO honeycomb disc design increases the stiffness of the entire disc construction and guarantees maximum process reliability while reducing weight. Individual honeycombs on the back of the valve disc ensure a significant optimization and calming of the flow downstream of the entire valve.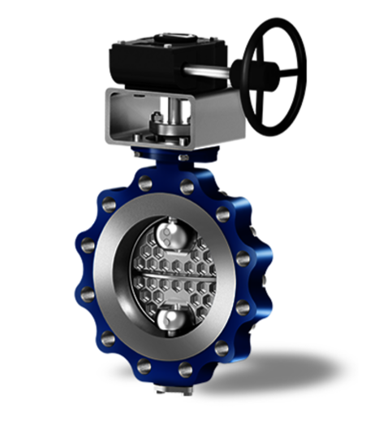 Source: ARI-Armaturen
The honeycomb disc is manufactured entirely from investment casting up to and including DN 500. This offers excellent aerodynamic properties due to the rounded shaft and pin design, making it ideal for a range of water and steam applications.
Additional features of the ZEDOX HEXO butterfly valve include a streamlined bearing and shape of the valve disc stands for a high-energy efficiency, while low torques guarantee a perfect handling. Safety is maintained even under challenging operating conditions (reliably tight at temperatures from -40° C to 260° C, PN 10 to PN 40 as well as ANSI Class 150).
Valve service life is extended by reducing the contact pressure and minimizing friction, as well as protection of the seat-sealing ring against the influence of negative medium flow. The ZEDOX HEXO achieves leakage rates acceptable to EN 12266, API 598 (bi-directional), soft-sealing (type TS) and metallic sealing (type CS). It also provides a blow-out proof shaft for extra safety.