Pfeiffer Vacuum introduces the new SmartVane rotary vane pump for mass spectrometry
Diana Aoun | January 26, 2023
Pfeiffer Vacuum has introduced the first rotary vane pump for mass spectrometry with a hermetically sealed pump housing. This new SmartVane vacuum pump is designed with no shaft seals, eliminating the number one source of oil leaks, therefore preventing any contamination. Thanks to the integrated motor, no conventional seal is needed, which results in low maintenance requirements. The SmartVane has an integrated energy-efficient IPM motor with a stand-by function.
By using novel IPM synchronous motors with sensorless INFORM control, SmartVane pumps achieve superior levels of efficiency. Reducing power requirements while maintaining high pumping capacity results in lower operating costs, while the motor achieves premium efficiency and significantly exceeds the minimum values of efficiency level IE3 — applicable to standard asynchronous motors. Its low power consumption automatically reduces the pump's operating costs and carbon dioxide footprint, thus making it a highly attractive option for sustainable operations.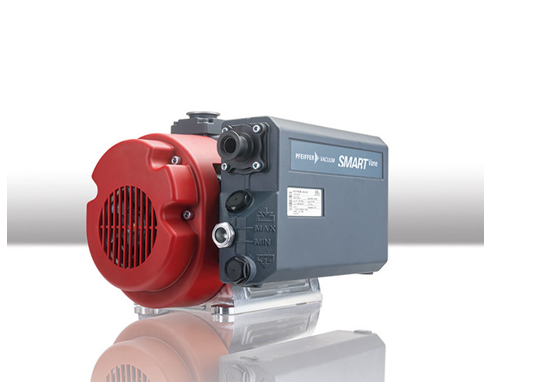 Source: Pfeiffer Vacuum
The SmartVane also ensures ideal conditions in the laboratory setting with an exceptionally low noise level. With its typical operating pressure of less than 10 hPA, it is quieter than other pumps used for this type of application.
Its compact design makes it easy to incorporate into existing systems and limited spaces. In addition, the pump is available with intelligent communication options and can be used as a plug-and-play solution in combination with existing devices.
The SmartVane can be utilized as a backing pump for mass spectrometers (ICP-MS, LC/MS), and is suitable for applications in environmental and food analytics, as well as in pharmaceutical and clinical analytics.