Texas A&M University team awarded NSF funding for project applying artificial intelligence to decarbonize buildings
Diana Aoun | January 25, 2023
A $1.5-million project funded by the National Science Foundation's (NSF) Partnerships for International Research and Education (PIRE) program has been awarded to a team of researchers led by Dr. Zheng O'Neill of the J. Mike Walker '66 Department of Mechanical Engineering at Texas A&M University. The project aims to apply artificial intelligence (AI) techniques to design energy-efficient district heat pump systems that better serve human needs and behaviors while reducing the carbon footprint of buildings.
The research is also supported by the Texas A&M Engineering Experiment Station's Energy Systems Laboratory, of which O'Neill is an associate director. The project focuses on the technology associated with district heat pump systems, which distribute energy to buildings through a system of heat pumps and insulated networked pipes.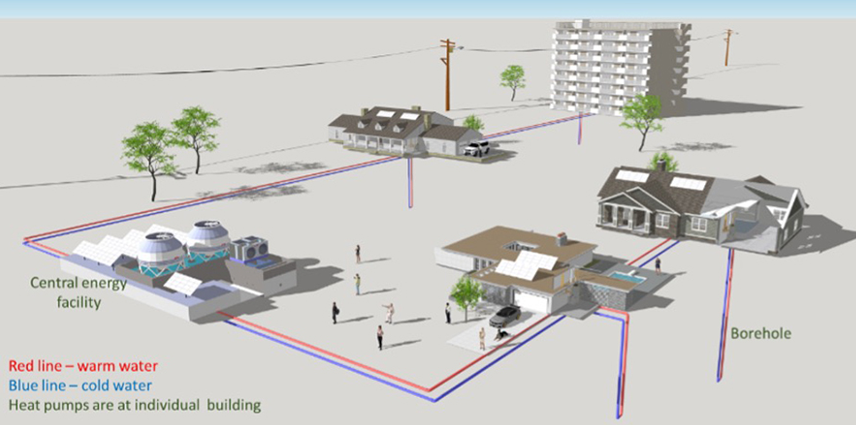 Source: Texas A&M University
The team of researchers aims to implement climate resilience planning as they address indoor heating and cooling needs in a way that ensures comfort while being more sustainable. One of the most recognized methods of reducing carbon emissions from heating and cooling systems is shifting to electric energy sources to replace higher-emission power sources like natural gas.
Researchers are working to build interactive AI tools to equip building managers and owners with the occupancy and behavior modeling information they need to make timely heating and cooling decisions. They also hope it will incentivize a wider adoption of building decarbonization techniques.
The U.S.-based researchers will work closely with their European counterparts from Sweden and Denmark, where district heat pumps have been more widely adopted and implemented, in comparison to the U.S. This collaboration will facilitate an exchange of data with the aim of, exploring, refining and promoting sustainable methodologies of using district heat pump systems to reduce the carbon footprint of buildings.