These states are primed to benefit from better building energy codes
S. Himmelstein | February 21, 2023
Federal resources are becoming available to update building codes, including a U.S. Department of Energy grant program and $1 billion in Inflation Reduction Act funding to help states and local jurisdictions adopt and implement stronger codes. According to a recent analysis by the American Council for an Energy-Efficient Economy (ACEEE), states can take advantage of these resources to cut energy use in new buildings by as much as a third.
The assessment identified 16 states that could cut energy costs in new homes by at least 20% and 14 states that could lower energy costs 20% in new commercial buildings by adopting the most recent national building energy codes. The stronger codes reduce energy use in new buildings and thus cut utility costs and greenhouse gas (GHG) emissions from burning fuels in the buildings and from power plants that provide the buildings with electricity.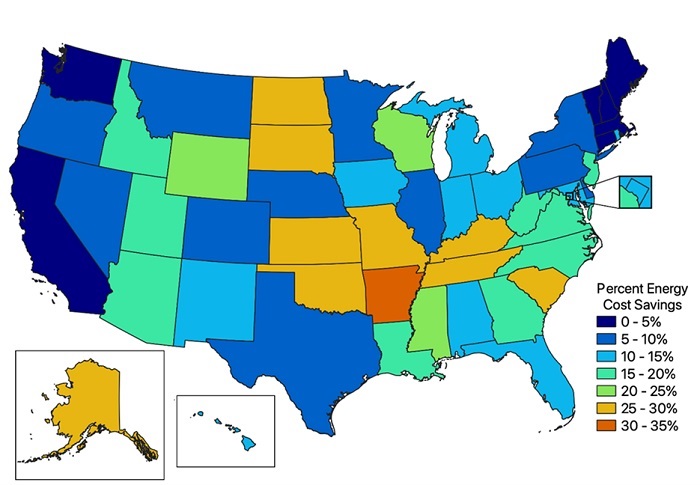 Cost savings by state from updated residential building energy codes. Source: ACEEE
These 10 states will gain the most benefits from updating outdated building energy codes:
Louisiana could reduce energy use 20% in new residential buildings and 32% in new commercial buildings if it implements the latest building codes.
North Carolina is among the top 20 states for potential residential and commercial energy savings and top 10 states for building construction, with above-average building emissions, providing an opportunity for lower emissions with more efficient new buildings.
Colorado, where local jurisdictions set building codes, has fairly high building emissions and the fifth-most construction activity among states, meaning it would greatly benefit from local jurisdictions updating building energy codes.
North Dakota has the highest average building emissions of any state, giving the state an opportunity for progress with widespread adoption of new energy codes by local jurisdictions.
Minnesota has roughly median building emissions, significant construction activity and ambitious climate targets, so advancing its energy codes would have meaningful impact.
Virginia needs to see the most emissions reduction of any state to meet 2030 climate targets, so strengthened energy codes should be part of a comprehensive climate strategy.
Wyoming, where localities set building codes, has very high building GHG emissions, so it would benefit from improving building energy efficiency (in addition to reducing fossil fuel generation in its electric grid).
Arkansas could see 30% energy cost savings in new residential buildings — more than any other state — and 33% savings in new commercial buildings if it enacts up-to-date building codes.
South Carolina is fourth among states in per capita construction activity and uses old versions of model energy codes, meaning updated codes would provide major energy savings.
Tennessee has significant building construction, and the state would see the second-highest cost savings from updating its residential energy code, as well as substantial savings from commercial building code updates.