Video: Ice dispatch energy storage system closes in on DOE funding
S. Himmelstein | February 03, 2023
Cold energy storage developer Nostromo Energy has been invited by the U.S. Department of Energy's (DOE's) Loan Programs Office to submit an application to proceed with a $189 million loan to fund deployment of 275 MWh IceBrick storage projects across 120 buildings in California and other states.
The company's patented IceBrick system is a 12 ft by 20 inch rectangular energy storage block with 132 gallon volume. The cold dispatch storage product provides the lithium-ion equivalent of 8 kWh to 12 kWh of avoided energy and provides 10 ton hours of cold stored energy. The IceBrick cell has an up to 92% thermal round-trip efficiency over an approximate four-hour dispatch cycle.
This solution stores energy during off-peak or surplus solar energy hours, when electricity's cost and carbon emission are low, so it can be used for cooling during peak demand hours, when electricity's cost and carbon emissions are high.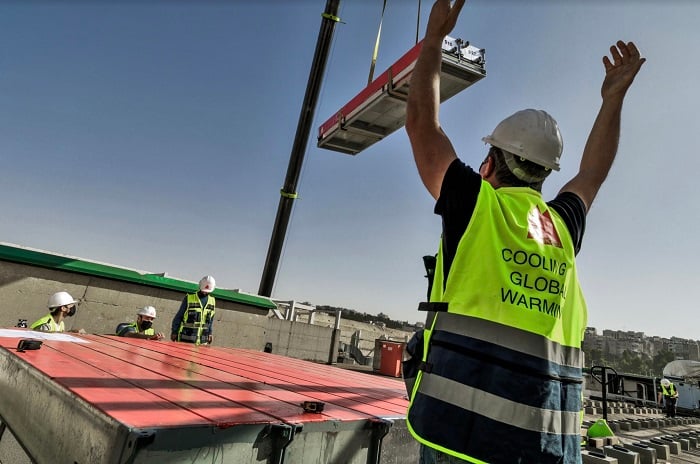 A contractor deploys a Nostromo IceBrick cold storage system at a commercial site. Source: Nostromo Energy
The company claims the ice-based energy storage technology is uniquely positioned for deployment in the commercial and industrial sector, where cooling energy demand accounts for approximately half of a building's energy use and more than a third of the total potential for load shifting by behind-the-meter storage on the power grid.
The IceBrick systems will be centrally managed by Nostromo's Cirrus cloud-based management system and operate as a virtual power plant to provide demand flexibility to the local power grid.