Virtual power plant to gird the grid in Puerto Rico
S. Himmelstein | January 24, 2023
Hurricane Maria all but destroyed the electric grid in Puerto Rico in 2017, spurring the installation of more than 50,000 rooftop solar arrays with backup battery systems across the island. Residents and business owners are adding thousands more every month as utility customers are faced with persistent power outages, damaging voltage surges and rising electricity bills.
Energy policy reforms were implemented in 2019 to accelerate the adoption of large-scale renewable energy projects and improve the grid's resilience in the face of such events. The policy mandates that 40% of the island's electricity come from renewable sources by 2025 — up from the current contribution of 5% — and 100% by 2050.
To that end, more than 7,000 homes equipped with solar panels and batteries will form Puerto Rico's first virtual power plant (VPP). The Puerto Rico Electric Power Authority selected San Francisco-based Sunrun to develop the 17 MW system designed to reduce power interruptions and fluctuations on the main electric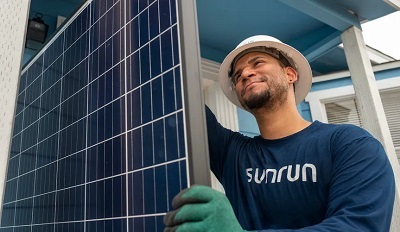 A Sunrun technician installs a rooftop solar panel in Puerto Rico. Source: Sunrun grid that serves the wider population.
The VPP is expected to help lower energy costs for all consumers, reduce pollution island-wide and help harden Puerto Rico's fragile grid with reliable, abundant solar energy by networking together the thousands of Sunrun solar-plus-battery systems installed on homes.
The company is now enrolling customers into the program and will begin networked dispatches in 2024. Customers will benefit from the cost savings of on-site energy generation and backup power and will also be compensated in exchange for strategically sharing their stored energy with Puerto Rico's power grid, creating a shared clean energy economy. Batteries enrolled in the VPP will continue maintaining adequate backup reserves to power through potential grid outages at participants' homes. All customers with batteries are also eligible to enroll and can opt out at any point during the 10-year program.