Video: Building the world's largest radio telescope
S. Himmelstein | January 11, 2023
Construction is now underway to erect the Square Kilometer Array (SKA), the world's largest radio telescope. When completed in South Africa and Australia in 2028, the facilities will measure neutral hydrogen over cosmic time, accurately time signals from pulsars in the Milky Way and detect millions of galaxies out to high redshifts. The €1.3 billion project is expected to address questions about the nature of gravity, dark energy and how galaxies formed and evolved.
Phase 1 of SKA construction will entail installation of two separate arrays of antennas: 197 large dish antennas in the Karoo desert in South Africa, and over 131,000 low-frequency wire antennas in the desert of Western Australia. Together these will cover the entire range of radio frequencies, from 50 MHz up to 25 GHz, with unprecedented sensitivity, resolution and sky coverage. Phase 2 will build out both arrays to the scale of thousands of dish antennas and over a million low-frequency antennas.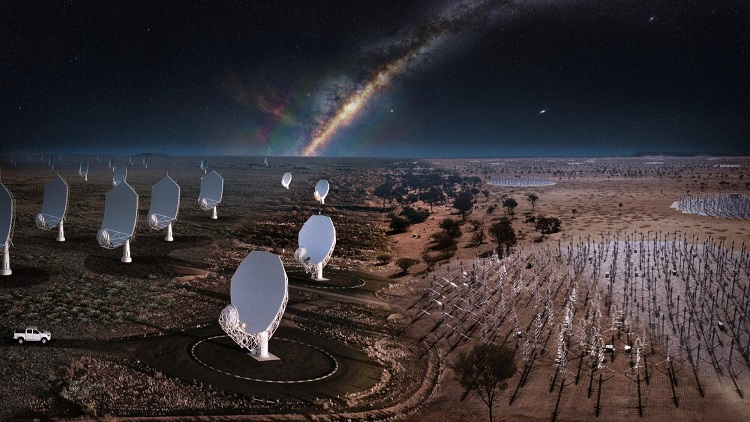 A composite image of the future SKA telescopes, blending what already exists on site with artist's impressions. Source: SKAO
The first two antenna stations are due to be complete by May 2023, while the first dish is set to be installed in April 2024, followed by three to four dishes each month.
The project is proceeding under the auspices of the Square Kilometer Array Observatory (SKAO) consortium, which includes 16 member nations and is based at the Jodrell Bank Observatory in the U.K.