Geogenic vs anthropogenic pollutants in US groundwater
S. Himmelstein | January 17, 2023
The presence of contaminants — both anthropogenic and geogenic, or naturally occurring species derived from geologic sources — in U.S. groundwater resources used for public supply was assessed by U.S. Geological Survey (USGS) researchers.
Groundwater quality was analyzed in 25 principal aquifers that account for 84% of groundwater pumped for public supply. Each site was sampled across its lateral extent using an equal-area grid, typically with 60 wells per principal aquifer. Samples were analyzed for 502 constituents, of which 374 had either a regulatory or non-regulatory human-health benchmark.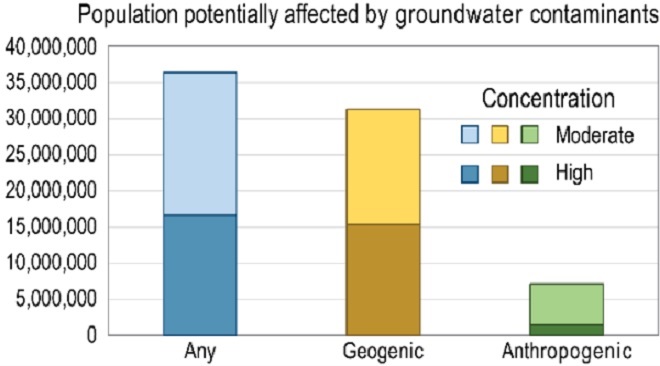 Geogenic constituents affect a larger population compared to anthropogenic constituents. Source: USGS
The results published in ACS ES&T Water confirm that elevated concentrations (relative to the human-health benchmarks) of geogenic constituents have a larger effect on the quality of groundwater used for public supply than anthropogenic constituents. This trend is indicated by three metrics: detection frequency; prevalence (based on area); and population potentially affected.
Elevated concentrations of unregulated geogenic constituents are broadly prevalent and, on a proportional basis, potentially affect 18.5 million people using groundwater from the aquifers evaluated in this study. The researchers suggest that additional attention to unregulated constituents may be warranted.