Tesa tape launches first-of-their-kind wire harness sleeves in the industry
Engineering360 News Desk | December 16, 2022
The wire harness industry has a problem — and tesa has just the solution. Gone are the days of using multiple coverings, convolute tube and fleece tape to prevent wire damage. Now, thanks to tesa's 51036 PV76 and PV78, you only need to use tape to solve bundling challenges. tesa, the global adhesive tape manufacturer, is excited to bring the SuperSleeveplus tape family to market. These patented tapes are the first sleeves of their kind in the wire harness industry. To achieve their multi-use purpose, the tapes feature both a layer of cloth and fleece to bundle wires together in a car body.
"No need to use more than one product on your car's wires!" said JR Valdez, sales manager for electrical systems at tesa tape North America. "We were the first to offer sleeves, and now, we continue to innovate the category."
The sleeves, along with the others in the product portfolio, enable the wires to bend and stay firmly together and protected. Other adhesive options lack this flexibility and leave wires rigid. Not only do the sleeves provide a range of movement, but they also provide abrasion and temperature resistance, along with noise dampening and protection from dirt and grit kicked up from the road or from extensive disuse.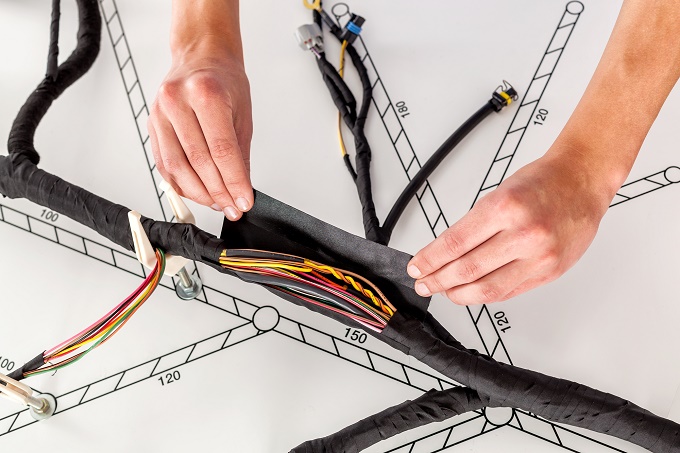 Source: tesa tape
The SuperSleeveplus products are resistant to temperatures up to 300° F for 3,000 hours. The difference between the two lies in their noise damping and abrasion resistance. 51036 PV76 provides the level of abrasion the user expects but now adds high noise damping.
Overall, tesa's sleeves offer a reduction in labor, since sleeves can be applied in a fraction of the time that it takes for wires to be wrapped in a spiral. Plus, under-wrapping and spot taping are removed from the process entirely. Precision is increased and inconsistencies are reduced because "lengthwise wrapping" is easier to perfect than spiral wrapping.
As a company whose mission it is to create sustainable adhesive solutions that improve the work, products and lives of customers, tesa uses a solvent-free advanced acrylic adhesive formula in the SuperSleeveplus products for flag-free performance.