Video: Solar-wind hybrid power system floats off China
S. Himmelstein | January 18, 2023
China's government-owned utility State Power Investment Corporation (SPIC) has launched the world's first commercial offshore floating solar system paired with an offshore wind turbine.
Norway-based Ocean Sun provided the floating solar power technology for the project, which is located off the coast of Haiyang in eastern China. A thin polymer membrane used to float the customized photovoltaic modules offers durability under high wind and wave conditions and increased solar conversion efficiency from direct water cooling. Two solar arrays, incorporating 60 cell dual-glass crystalline silicon modules, with a peak generation capacity of 0.5 MW are connected to the SPIC-owned wind turbine, and a subsea cable transfers power from the site to the onshore power grid.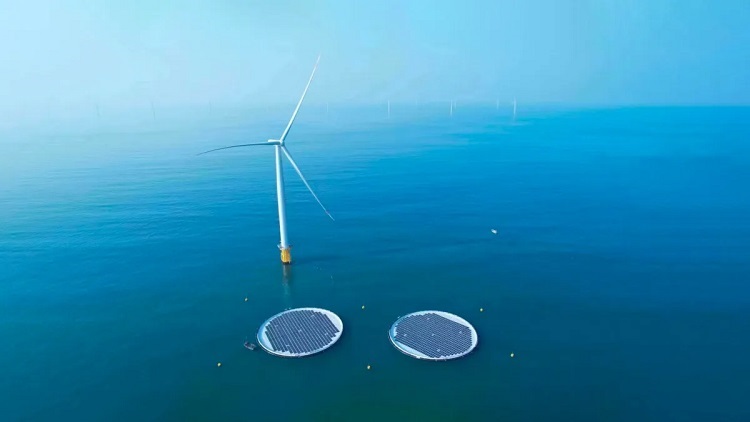 Two floating solar platforms are connected to an offshore wind turbine in the world's first commercial offshore wind-solar project in the waters off China. Source: Ocean Sun
The success of this project could lead to the construction of a 20 MW floating wind-solar farm in 2023 based on Ocean Sun's technology.