Video: Carbon storage in depleted offshore oil and gas fields
S. Himmelstein | January 16, 2023
A collaboration involving 23 international partners is advancing carbon capture and storage technology in the form of Project Greensand. In its initial phase, the project is expected to start storing up to 1.4 million tons of carbon dioxide annually by 2025 in the depleted Nini oil and gas field in the Danish North Sea.
By the year 2030, Project Greensand will store up to 8 million tons of CO2 per year, corresponding to more than 13% of Denmark's annual CO2 emissions. The CO2 for the pilot phase, running to 2023, will be delivered from an Ineos Oxide facility in Belgium, where the gas is now being captured. After liquefaction, the CO2 will be shipped in special containers to the Nini West platform 200 km (120 miles) off the coast of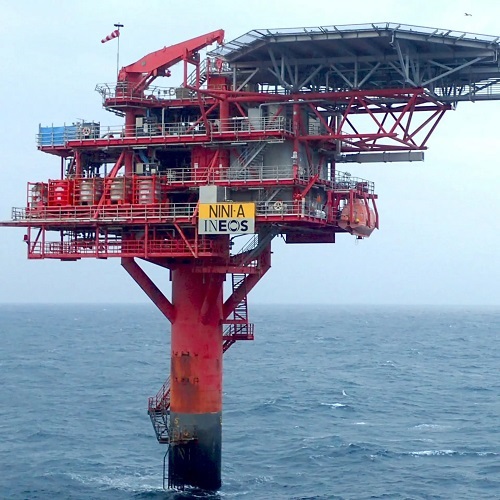 This oil platform in the North Sea is now running in reverse, pumping CO2 into the depleted oil reservoir below. Source: Ineos Energy Denmark in the North Sea. The repurposed platform will reverse its previous flow to pump liquefied CO2 some 1,800 m (1.1 miles) below the seabed where it will begin refilling the Siri Field. This Paleocene sandstone reservoir has been identified as an excellent spot for carbon sequestration.
Subsequent expansion of the project to the full Nini Main field is planned, with larger cargo vessels shuttling liquid CO2 to the central platform to be pumped down dedicated new injection wells.
Additional project participants are Ineos Energy, Energy Cluster Denmark, Blue Water Shipping, SpotLight, Welltec, Danish Technological Institute, Wintershall Dea AG, Semco Maritime, Noble, GEUS (Geological Survey of Denmark and Greenland), Geelmuyden Kiese, Rambol, Aker Carbon Capture, Resen Waves, Magseis Fairfield, Technical University of Denmark, Wind Power Lab, ESVAGT, DHI, Dan-Unity CO2, University of Southampton and National Oceanography Centre.