Jacksonville, Florida-based startup MesoGlue is commercializing a metallic adhesive that sets at room temperature with the strength and thermal/electrical conductivity of a weld. The adhesive could eliminate both the complexity and risk of thermal damage to components associated with soldering.
The glue can be applied to virtually any flat surface, rigid or flexible, making it useful for joining items as diverse as a computer's central processing unit with a printed circuit board or the glass and metal filament in a light bulb.
(Read "Adhesives Undergo a Revolution in Materials Applications.")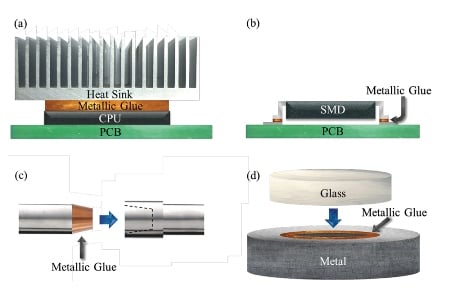 Potential applications for metallic glue. Image credit: Northeastern University/Hanchen Huang.MesoGlue was developed by Hanchen Huang, professor of mechanical and industrial engineering, and colleagues at Boston's Northeastern University, who used the unique properties of metallic nanorods to develop the adhesive.
Metallic nanorods are small rods with metal cores, which the researchers coated with the element indium on one side and galium on the other. They then arranged the rods along a substrate like angled teeth on a comb. Top and bottom "combs" are then interlaced like teeth. When indium and galium touch each other, they form a liquid, which solidifies by the action of the metal core of the rods. The resulting glue provides the strength and thermal/electrical conductance of a metal bond.
According to Huang, the glue boasts several advantages over standard polymer adhesives: it functions at high temperatures and high pressures, conducts heat and electricity better and is more resistant to air and gas leaks.
"Hot processes like soldering and welding can result in metallic connections that are similar to those produced with the metallic glue, but they cost much more," says Huang. "In addition, the high temperature necessary for these processes has deleterious effects on neighboring components, such as junctions in semiconductor devices. Such effects can speed up failure and not only increase cost, but also prove dangerous to users."
Huang says the metallic glue has many potential applications, particularly in the electronics industry. As a heat conductor, it could replace thermal greases currently in use, and as an electrical conductor, it could replace today's solders. Specific products that could incorporate it include solar cells, pipe fittings and components for computers and mobile devices.