A powerful wave of FPT Industrial innovative marine solutions on display at METSTRADE 2022
Engineering360 News Desk | November 25, 2022
FPT Industrial attended METSTRADE 2022, the world's largest B2B leisure marine equipment trade show, held November 15 through November 17, 2022, in the Netherlands. Sustainability, efficiency, hybrid propulsion solutions and new collaborations were the main themes showcased at RAI Amsterdam Europaplein in Amsterdam.
IMO Tier III compliant solutions — A new collaboration between FPT Industrial and Frydenbø Industri AS Marine
Developed in collaboration with Frydenbø Industri AS Marine, the authorized distributor of FPT Industrial's products in Norway and Sweden, the Frydenbø ATS for FPT Industrial engines is a simple and flexible system that meets the IMO III emission requirements south of 62° latitude for the reduction of environmental footprint in the maritime industry. Its field of application covers Scandinavia, East U.K., North Germany, Denmark and East Canada. Designed and supplied on a projects base and available through selected authorized FPT Industrial distributors, this practical solution delivers additional benefits in terms of noise reduction — with an average transmission loss of about 35 dB (A) over a frequency range of 50 Hz to 1,500 Hz — and lightness, with less than 300 kg per engine, urea tank included.
C90 650 EVO Hybrid Configuration — The FPT Industrial and Vulkan Hybrid Architect modular and scalable parallel hybrid electric marine propulsion system
Compact parallel hybrid is the most promising architecture option for both commercial and pleasure vessels in the 100 hp to 1,000 hp market, delivering top performance, flexibility and efficiency. Taking that into account, FPT Industrial has decided to create its own system by teaming up with Vulkan Hybrid Architect, a division of the Vulkan Group. Designed to offer reduced maintenance requirements and costs, fuel savings, emissions reductions and exceptional comfort, as well as allowing access to marine protected areas in full electric drive mode, the FPT Industrial — Vulcan Hybrid Architect solution on display in Amsterdam features an FPT Industrial C90 650 EVO diesel engine, a hybrid clutch to engage and disengage the internal combustion engine, an E-machine in the form of a synchronous permanent magnet and axial flux motor, a frequency converter, a marine gearbox, a mechanical interface and a vibro-acoustic isolation system.
The parallel hybrid systems can be designed in a variety of different solutions by combining FPT Industrial diesel engines from 125 kW to 735 kW with proper sizing of e-motors and battery packs to meet any project requirement and customer needs.
C16 600 Keel Cooling — All waters are good waters
Unveiled at Nor-Shipping 2022, the new keel-cooled C16 600 is ideal for push and tugboats, ferries, dredgers and commercial fishing vessels operating in brown waters, inland waterways and harbors with a potentially dangerous presence of mud and sand.
Thanks to its position along the keel or incorporated into the hull itself, and therefore in constant contact with the water, the cooling system can efficiently dissipate an engine's heat and cool it down without the need to circulate salt water in the engine. The main benefits include protecting the engine from seawater corrosion, preventing frequent obstruction of the seawater filter and damage to the seawater impeller.
FPT Industrial common rail marine engines, including Keel-Cooled configurations, can be fueled by hydrotreated vegetable oils (HVOs) and all EN 15940 compatible fuels with no compromise on performance. Reductions in carbon dioxide emissions of up to 90% can be achieved, depending on the feedstock used in the HVO production.

C90 410 for constant speed generators, propulsions and auxiliaries and Stage V applications — Top performance for medium- and heavy-duty applications
The C90 410 offers outstanding power output alongside high power and torque density, with generous displacement and the highest levels of reliability, easy maintenance and competitive operating costs. It's offered both in heat-exchanged and keel-cooled configurations, all customizable on request, while options include electronic remote control, monitoring systems and compliance with international emission standards, such as IMO MARPOL Tier II, China GB II, EU IWV STV (only for 170 Hp) and RINA propulsion type approval. At METSTRADE 2022, the C90 410 was also presented as an auxiliary power unit with layout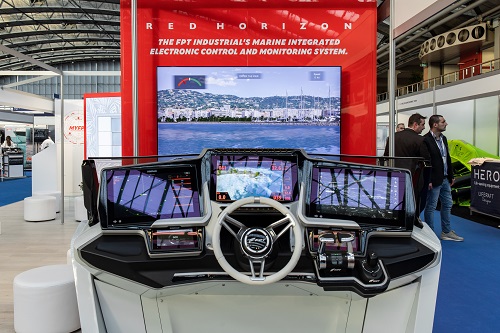 Source: FPT Industrial and specific settings focused on marine duties, available for constant speed generators and fixed speed auxiliaries.

Red Horizon — High technology, award-winning style
Developed in collaboration with two leading global companies — ZF and Navico (Simrad) — Red Horizon is FPT Industrial's integration of the most advanced marine technologies in engine, monitoring and control systems, guaranteeing full navigation control and safety, optimal driving comfort, and easy handling and mooring. Available in combination with any top engine from FPT Industrial's Cursor and NEF families, Red Horizon is presented inside a unique environment, inspired by the automotive world, luxury cars and villas, and vintage Italian boats, resulting in a comfortable bridge with a touch of minimalism, where customers can feel at home. This unique style has received two of the world top design awards — Gold Winner of the 2021 edition of the New York Product Design Awards in the Watercraft Category, and the 2021 Good Design Award.